Statutory Cells & Committees
ACTIVITY REPORT - ANTIRAGGING COMMITTEE-2019
As a part of sensitization program the XVII batch Kasturba Gandhi Nursing College, B.Sc(Nursing) students were  sensitized on the full fledged functional institutional Anti Ragging Committee and its proceedings on 28.09.2019.The active student council members of KGNC exhibited a video show on "Zero tolerance   of ragging" at ground floor lecture hall, KGNC. Mr.Naveen,Vice President, Student Nurse Association of KGNC, explained the ill effects of ragging, the action taken by the Government against ragging according to UGC Act, The Council  also emphasized that the campus is ragging free. Dr.Renuka.K, Principal KGNC welcomed the students and advised them to stick on to the rules and regulations  in the campus. She also explained about the various  functional committees and clubs for the students .Mrs.S.Saranya, Asst.Prof, explained and insisted the importance of the National Anti Ragging helpline toll free number and helpline email id. She also emphasized to fill the online affidavits and registration by the students and parents.
Lecture on "Antiragging" by DCI Member
A Lecture on "Antiragging" was delivered by Dr. S.P.K. Kennedy Babu,  DCI Member &Prof. & Head Dept. of Periodontia, Mahatma Gandhi Post Graduate Institute of Dental Sciences, Puducherry on 13/11/2019 at Indira Gandhi Institute of Dental Sciences. The program was attended by faculty and student members of the antiragging committee of IGIDS. The program started with welcome address by Dr.Jagat Reddy, Member Secretary, Antiragging committee of IGIDS followed by felicitation of the guest speaker by Dr.Saravanakumar.R, Principal, IGIDS, Dr.Sathyanarayanan.R, Vice Principal, Academics&Dr.SanthaDevy. A, Vice Principal, Students affairs, IGIDS. Dr. S.P.K. Kennedy Babu highlighted the importance and seriousness of the topic. He emphasized the definition of "what constitutes ragging" as defined by the Honourable Supreme Court of India. The lecture threw light on the role of the antiragging committee of the institute, senior students' perception of ragging and their role in helping to curb ragging. The legal consequences that would follow a report of ragging were also explained with examples. The program ended with vote of thanks by Dr.Sathyanarayanan.R, Vice Principal, Academics followed by tea and snacks.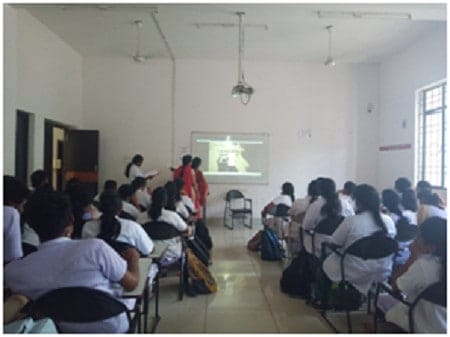 IGIDS conducted Sensitization program for senior student regarding anti ragging.