CYTER of SBV conducted an interactive and lively International Workshop on "Holistic Approach of Yoga Therapy in Health and Disease" on 20th July 2019 (Saturday) as part of IHRC 2019 held between 19 and 21 July 2019.
The program was organized by Dr. Meena Ramanathan, Deputy Director and Associate, Yoga Therapy of CYTER as Organizing Chairman and Sri Dayanidy G, Lecturer, CYTER as the Organizing Secretary. This workshop had three international speakers (two from the USA rendered their sessions via Live Zoom connectivity), eight external and three internal resource persons (Director, CYTER gave his talk via live Zoom session).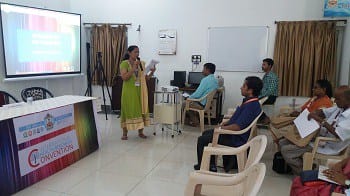 Scientific Session I had Prof Dr. Madanmohan, Director, CYS, AVMC who offered felicitations, Prof Dr. Elangovan, Principal, Saveetha School of Physical Edu., Chennai gave the Keynote address, Dr Larry Payne, USA rendered the special address via live Zoom, Ammaji Yogacharini Meenakshi Devi Bhavanani, Director ICYER offered her blessings. A booklet designed by CYTER team entitled, "Compilation of Abstracts" was released by Hon VC Prof SC Parija.
Scientific Session II consisted of presentations by Dr. S Selvalakshmi and Dr.Duraiswamy Asst. Prof.- (Yoga), TNPESU, DrParthasarathy, Tutor, Annamalai University, International speaker Auriane Pellissierfrom France. Parallel Paper and Poster presentations were held during this session.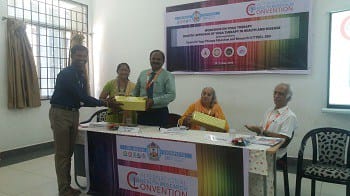 Scientific Session III had Dr. Stephen Parker (Stomaji), USA via live Zoom connection, Dr. J Mohanakrishnan, JIPMER, DrKavirajUdupa, Addl Prof., NIMHANS and Dr. Ananda Balayogi Bhavanani, Director CYTER of SBV (live via Zoom)
The event was highly appreciated through the attendance of participants from various parts of the country including Tamilnadu, Trivandrum, Bangalore, Hyderabad, New Delhi, and Puducherry and gave positive feedback on the content, speakers, and organization and requested for more such events in future.