CYTER - Online / Print Media
French Consul General Lise Talbot Barre during a recent visit to the Sri Balaji Vidyapeeth to explore areas of collaboration.
The French Consul General Lise Talbot Barre recently visited the Sri Balaji Vidyapeeth (SBV) to explore the scope for academic partnerships.
According to the SBV, the visit by Ms. Barre, who was accompanied by Blandine Ripert, Director, French Institute of Pondicherry and Sathish Nallam, president, Alliance Francaise, was primarily intended to explore the possibilities of collaboration in academics, research, student exchange, and cross-cultural experiences.
She elaborated on the role played by the Consulate in enabling developmental initiatives aimed at translating need and value-based ideas into actual practice.
She mentioned in particular a few prospective areas of collaboration aimed at the exchange of students and faculty in diverse areas that include health sciences, humanities and even linguistics.
Key areas
Ms. Ripert cited the key areas of the MoU signed between the French Institute of Pondicherry and SBV, such as epidemiological studies by incorporating a geospatial network as linked to communicable and non-communicable diseases prevalent in the region.
Dr. Nallam welcomed the initiative jointly undertaken by SBV and Alliance Francaise in conducting French classes for the benefit of aspiring professionals in healthcare.
Contribution to society
Nihar Ranjan Biswas, SBV Vice-Chancellor, expressed hope that the basic French classes will be integrated into the regular curriculum to the extent possible. On behalf of Chancellor M.K. Rajagopalan, Mr. Biswas presented the Consul General of France with a monetary contribution towards societal obligations under the Institute of Social Responsibility.
The delegation visited facilities at SBV, including the Institute of Salutogenesis and Complementary Medicine, which encompasses yoga and music therapy.
Later, the Consul General inaugurated the French classes for the students of allied health sciences, including nursing, pharmacy, and physiotherapy.
Sri Balaji Vidyapeeth (SBV) has launched an Institute of Salutogenesis and Complementary Medicine (ISCM) to better integrate ongoing complementary therapeutics and wellness medicine programmes for patients. SBV has been providing complementary medicine services since 2007 in the form of music therapy interventions and yoga to target specific diseases, and in combination with modern medicine.
Both these services were subsequently established as centres – the Centre for Music Therapy Education & Research and the Centre for Yoga Therapy Education and Research.
Bhushan Patwardhan, chairman, executive committee, National Assessment and Accreditation Council (NAAC), and former vice-chairman, University Grants Commission (UGC), launched the facility at a function recently.
In his remarks, Dr. Patwardhan drew reference to the statistics provided by the World Health Organization (WHO) that nearly 80% of the global population utilises traditional, complementary and integrative medicine (TCIM).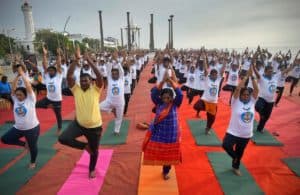 Yoga enthusiasts gathered on the beach shortly after sunrise on Monday to spread the message of physical fitness and mental wellness ahead of the 8th International Yoga Day falling on June 21. Lt. Governor Tamilisai Soundararjan launched the 'Yoga Mahotsav' organized by Sri Balaji Vidyapeeth (SBV) as part of the 100-day countdown held across 100 cities at iconic and heritage sites under the auspices of the Morarji Desai National Institute of Yoga, Ministry of AYUSH. Describing yoga as the nation's cultural treasure in which the message of wellness for the entire humanity is enshrined, the Lieutenant Governor said yoga should be adopted as a way of life. Practicing yoga is very much needed in the modern world of stress and strife to achieve "agility of body and calmness of mind", she said. Ms. Soundararajan said working professionals, especially those in the IT sector, faced a great deal of stress. She exhorted organizations associated with yoga to formulate Standard Operating Procedures for seamlessly integrating the virtues and practice of yoga into the lives of everyone in general and women in particular for they are under enormous stress and work pressure, be it at home or office. S.C. Parija, Vice-Chancellor of SBV, said yoga practice presented a path for attaining a tranquil state of mind and self-actualization. Earlier in the day, a mass demonstration of the common yoga protocol was performed by over 300 students, faculty, and staff of SBV led by Ananda Balayogi Bhavanani, Director, Centre for Yoga Therapy Education and Research, SBV. A.K. Sai J. Saravanan Kumar, Minister for Civil Supplies participated in the Yoga Mahotsav. SBV is also hosting a week-long international yoga therapy convention till June 21 featuring 20 eminent speakers across the globe.
Based on various indicators, mainly on the impact of the scientists in terms of citations of their publications, a team from Stanford University has identified the 

world top 2% scientists

. They have featured 

m

ore than 100 experts from Tamil Nadu & Puducherry

 in their report.
Prof. Subhash Chandra Parija, Honourable Vice-Chancellor, SBV is one among these top 2% scientists (Top scientists in Tropical Medicine)
To read further click on the link
"YUVA YOGA SANGAMAM" organized by CYTER – a mass Yoga demonstration by hundreds of students of SBV to channelize the youth power for nation-building commemorating the NATIONAL YOUTH DAY 2020, was in the Hindu news.
An Article on "Yoga Therapy Today – Summer 2019" in IAYT
This featured article published in Yoga Therapy Today of the International Association of Yoga Therapists, is a foundational piece that will no doubt inform many future discussions: Ananda Balayogi Bhavanani, Marlysa Sullivan, Matthew J. Taylor, and Amy Wheeler recommend a "common language to present yoga therapy" that includes an ability to accurately articulate key biomedical concepts to clients and other stakeholders in our services.
Read more at: