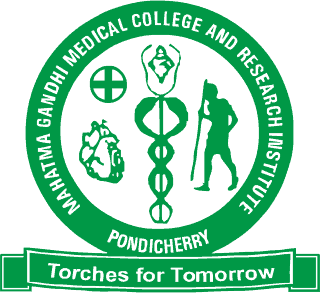 Mahatma Gandhi Medical College and Research Institute (MGMCRI)
Mahatma Gandhi Medical College and Research Institute is a leading medical institution in the country, having figured among the top 25 medical institutions, as per India Rankings 2018, released by NIRF, India. Named after the father of our nation Mahatma Gandhi, MGMCRI is head and shoulders above many a medical college in the country and continues to inspire the young and avid minds of prospective medical professionals.
A constituent College of Sri Balaji Vidyapeeth, Pondicherry (a Health Sciences Deemed to be University, accredited by NAAC with A Grade in the First Cycle), MGMCRI offers a salubrious, yet academically challenging environment that boasts of an excellent reputation, synonymous with the availability of well qualified and experienced faculty, state-of-the-art infrastructure, well trained supportive staff, patient friendly health care team and above all eager, bright and discerning students who are ever ready to tread on their chosen path and profession with diligence, obedience, commitment, perseverance and dedication.
The Institute is endowed with its modern infrastructure, provides a world class ambience for a well paced training program in Post graduate / undergraduate programmes based on regularly revised curriculum of SBV Deemed to be University. The Institution prepares young specialist / future clinicians, academicians and scientists who are organisationally effective, obsessively dedicated, dynamically innovative, psychologically emphatic and personally caring with a passion for professional ethics, research, quality treatment and community oriented goals.
The PG programme combines hands on training with firm academic knowledge grounding and real world exposure, experience and challenges during their study they will encounter. It makes them competent doctors and also empower them with mastery of contemporary advances in their specialties with a spirit of scientific enquiry and orientation to research methodology
The core services, as exemplified by the broad specialties in Medicine and Surgery serve patients from a wide catchment area. Each year, Mahatma Gandhi Medical College & Hospital treats more than five lakh adult and children – an endeavor ably affected, thanks to the highly qualified, motivated and dedicated professionals, motivated team of physicians, surgeons, nurses, assistants, and fully equipped well maintained departments.
The out-patient services on an average handle approximately 3500 number of patients
Housing 1200 in-patient beds, the general wards are spacious, adequately ventilated, clean and illuminated. The occupancy rate is presently at about 85%.
The hospital provides casualty and emergency medical services round the clock, ably supported by fully-equipped ambulance services.
A 24-hour blood bank is in a state of readiness and alert and is certainly poised to develop into a full-fledged department of transfusion medicine.
Several minor and major surgical procedures are performed in a number of state-of-the-art operation theatres. Closed-circuit televisions (CCTVs) are installed at vantage points for medical students to view many an operative procedure from outside the operation theatres.
Our intensive care units are equipped with essential critical care equipments and cater to the special needs of critically ill patients.
Lab, spiral CT, MRI, fully automated random access blood chemistry analyzer, automated chemiluminescence analyzer, computerized RCG, and a flexible fibreoptic bronchoscopy unit. A Picture Archiving and Communication System (PACS) further augments the services offered at the Radiology department.
Haemodialysis, neonatal ventilators, PUVA photochemotherapy, biofeedback, and sinus endoscopy procedures are part of the therapeutic armamentarium.