The Constitution of India was adopted on November 26, 1949, an important landmark in the country's journey as an independent, sovereign republic. Constitution Day was first celebrated four years ago in 2015 when the Government decided to mark the day as a tribute to BR Ambedkar, who played an important role in the framing of the Indian Constitution. As per the UGC guidelines, Kasturba Gandhi Nursing College, a constituent college of Sri Balaji Vidyapeeth (Deemed to be University) has commemorated the 70th Anniversary of the Constitution Day of India on 26th November 2019. In this regard, A Live video telecast from Rajya Sabha Channel of the Programme from the Central Hall of the Parliament was arranged in the Sushruta Hall of the College Premises. 22 Faculty & Staff Members and 218 Students had Participated.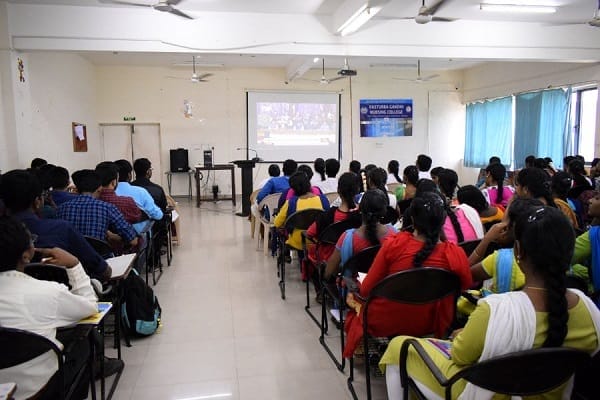 The Programme started at 11 am. The Honourable President of India, Vice President and Prime Minister of India had graced the Programme and highlighted the importance of the Constitution in the growth of the Country. The Honourable Prime Minister of India, in his address, quoted that he hopes the "Constitution Day" reinforces our obligation towards upholding the constitutional ideals and values, thus contributing to nation-building which was the dream of the makers of our Constitution."
Thus it reminds everyone to be responsible for fulfilling their duties towards the Nation to make a better India. In addition, Prof. Sumathy P, Vice Principal, Kasturba Gandhi Nursing College administered the Preamble to the Constitution of India where the Faculty Members and Students recited.