Sri Balaji Vidyapeeth with its progressive healthcare ecosystem had integrated cutting-edge healthcare-focused research across all its constituent colleges since its inception.
To expedite and promote interdisciplinary research, a Central Interdisciplinary Research Facility (CIDRF) was established in 2012 with a vision to lead translational personalized Healthcare and Research to Increase impact on patient care and expanded scope for clinical practice. In its journey, CIDRF has achieved many milestones in terms of integration of modern research in SBV ecosystem, the establishment of small animal facilities – CaReTS, C-Mudra and recognition as SIRO from the Department of Scientific & Industrial Research (DSIR), Govt. of India. CIDRF has instrumentally contributed to high-impact publications of national and international repute in its long journey.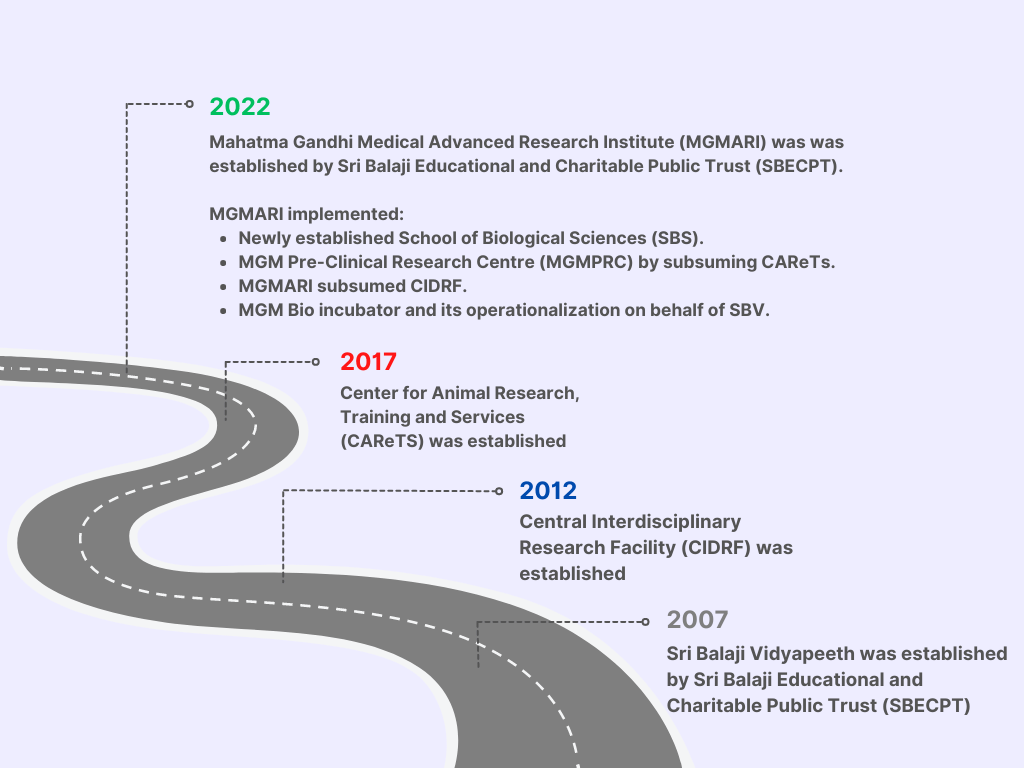 In 2020, SBV with earnest wish to expand its research and academic activities to the Science and Technology Division as a tool to develop human and knowledge capital to meet the future demand of biological sciences both in terms of academia and research. As such, some administrative and structural reforms were made that led to the establishment of the Mahatma Gandhi Medical Advanced Research Institute (MGMARI) in January 2020 by Sri Balaji Educational and Charitable Public Trust (SBECPT).
MGMARI is an autonomous research-based institution with research autonomy and introduces curricular activities in accordance with UGC guidelines and practices of Sri Balaji Vidyapeeth (Deemed to be University), Puducherry. It has a mission for integrating the fields of Medicine, Science, Engineering and Technology to promote translational knowledge and making the resulting biomedical innovations accessible to public health.
To carry the ambitious vison, MGMARI under its management implanted the following:
A School of Biological Sciences (SBS) was newly established in 2020 the background of basic, clinical, and translational research and knowledge base of Sri Balaji Vidyapeeth (SBV). The SBS will bring the much-needed future ready biological science academia and to be operated under the umbrella of MGMARI.
A new MGM Pre-Clinical Research Centre (MGMPRC) was also established which will subsume all the activities, infrastructure and programs and projects of Small Animal Facilities funded by DBT & the CaReTS
MGM Bio incubator and its operationalization on behalf of SBV
MGMARI subsumed CIDRF and its activities, infrastructure, facilities, programs and projects with immediate effect. A committee is constituted under the chairmanship of VP, SBV with Dean, MGMCRI, Project Manager, GM (Admin) and other invited members as required to work out the plan for effective utilization of the CIDRF infrastructure.
MGMARI started its operation under a separate management of Sri Balaji Educational and Charitable Public Trust (SBECPT). The Vice President, (RI&D), SBV is the overall Coordinator of the MGMARI and SBS. MGMARI have its own Governing Body (GB) with Chairman of SBECPT and Chancellor, SBV as a Patron and Vice-Chairman of SBECPT as the Chairman of GB. Vice-President SBV is the Co-Chairman with two internal faculty, two scientific experts and biomedical industry representatives. One of the Professors is the coordinator inter-phasing with the University for Implementation of SBS and another Senior Professor/Associate Professor is in charge of R&D of MGMARI. The later shall acts member secretary of GB.