Department of Biochemistry organized a Guest Lecture for our MBBS students on "Acid-Base Disorders: Biochemistry Perspective" byDr. Dinesh Puri, a well-known author for Textbook of Biochemistry May 3rd, 2019.
Prof.S.Sumathi, Head, Department of Biochemistry welcomed the gathering. Mr.V. Kuzhandai Velu, Tutor, Department of Biochemistryintroduced the resource person, Dr. Dinesh Puri, Director, Prof and Head, Department of Biochemistry, University College of Medical Science, Delhi. The Program started by awarding certificates to prize winners in e-poster presentation title "Integrated Metabolism" which is held on 16th April 2019 by guest speaker and ended with vote of thanks by Mr. K. Ramachandra, Tutor, Department of Biochemistry.
The programme is aimed at imparting knowledge about acid-base disorders. He also discussed .various new teaching-learning methods among the first year MBBS students. Students in their feedback told that the session was interesting and also interactive.
Prof. S. Sumathi, Head of Biochemistry Department Presenting memento to the guest speaker Prof. Dinesh Puri
Prof. Dinesh Puri awarding certificate to prize winner of e-poster competition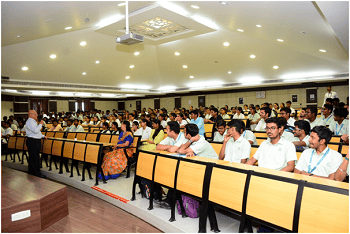 Prof. Dinesh Puri delivering Guest Lecture for MBBS students