A REPORT on SBV IDY 2019
As per guidelines issued by UGC and Ministry of AYUSH, Government of India, the International Day of Yoga 2019 was celebrated by Centre for Yoga Therapy, Education and Research (CYTER) of Sri Balaji Vidyapeeth (Deemed to be University, accredited with 'A' Grade by NAAC), Pondicherry in a grand manner with a fortnight of celebrations from 13-26 June 2019.
Day 1: The SBV IDY 2019 celebrations began with Yoga awareness program at MRD of MGMCRI for the general public, patients, caregivers and staff members of the hospital services. Dr. Swati Jayant Pawar, DMS, and Dr. M Lakshmana Perumal, RMO were guests of honor and addressed the gathering. Dr. Meena Ramanathan, Deputy Director of CYTER gave a brief overview of CYTER and its activities and then Sri G Dayanidy, Lecturer and Sri Dhanushapnadeesh, Yoga instructor gave a short practice session in which the audience participated with enthusiasm. Dr. Ananda, Director of CYTER thanked the gathering and welcomed everyone to the IDY events as well as to benefit from Yoga therapy services offered by CYTER.
Day 2: The grand event of the SBV IDY 2019 celebrations, the National Seminar, and Workshop on "Divyanga Yoga: A yogic approach to children with special needs" was held on 14 June 2019 at SBV campus. More than 100 delegates from abroad and many Indian states attended the two-day sessions with eminent experts from all over India.
Prof. Subhash Chandra Parija, Hon'ble Vice-Chancellor, Sri Balaji Vidyapeeth inaugurated the SBV- DY2019 celebrations and delivered the Yoga Day Address. He elaborated the history behind the Yoga Day movement initiated by our respected PM Shri Narendra Modi and detailed the integration of Yoga in medical, dental and nursing education at SBV. CYTER is a unique center as it is functioning in a healthcare university and hence the traditional wisdom of Yoga is being amalgamated with the scientific rigor of modern medicine to benefit all patients at MGMCRI as well as the local society of Puducherry and the surrounding region. Yoga reduces stress, prevents addictions and can help young students avoid pitfalls of modern vices and withstand negative peer pressure. This is very important for them as unless they are healthy, they will not be able to serve society to the best of their potential.
Sri Subodh Tiwari, CEO, Kaivalyadhama-Lonavla was Chief Guest and Ammaji Yogacharini Puduvai Kalaimamani Smt. Meenakshi Devi Bhavanani Director, International Centre For Yoga Education and Research, Pondicherry blessed the occasion. She said that the Science of Yoga has shown us a way out of darkness and suffering. The purpose of Yoga is to help us discover our own divinity and control the wild and turbulent mind causing problems. She blessed everyone with the state of happiness and ease, joy and safety, a state which will enable man to fulfill his dharma and restore balance and stability within and around! Prof. M.Ravishankar, Dean – Mahatma Gandhi Medical College and Research Institute, and Prof AR Srinivasan, Registrar- Sri Balaji Vidyapeeth offered felicitations. Prof Madanmohan, Director CYS and Member International Advisory Board of CYTER was honored on the occasion.
Resource persons for the seminar included Dr. Nutan Pakhare, Consultant of Ayurveda and Yoga, Kaivalyadhama, Mumbai. She gave an excellent and well-taken presentation on 'Garbhsanskar- Prevention of disability in the child' explaining the details of how a child is born with a disability and how it could be prevented if adequate care is taken. Dr. Praseeda Menon Research Officer at SRD of Kaivalyadhama, Lonavla, Pune presented on 'Current scenario of research work in Divyanga.' Her talk threw light on the scientific studies that have been done so far, their conclusions and the overall benefits of Yoga for the Divyanga children along with a discussion on the future research activities in this field.
Smt Chitra Shah Director, Satya Special School, Puducherry spoke on the 'Management of Divyanga: An administrative perspective.' She spoke about the ground reality and practical difficulties faced while dealing with the special children as well as their parents/caregivers.
During the lunch break, poster presentation competition was conducted and enthusiastic research scholars participated in it. The juries consisted of Prof Madanmohan, Director CYS, AVMC, Pondicherry and Dr. Praseeda Menon from Kaivalyadhama who judged the posters. First prize was won by Ms. Garima Setia (Addressing gastrointestinal problems in children with special needs through yoga); second prize went to Ms. Priya Philip(Nurturing the nurturer) and third prize to Dr. Rajalakshmi S (Swastha Manas: Yogic concept of Mental Health).
Post lunch sessions of the Seminar continued with an interactive and humor-filled talk by Sri Saravanan Palani, state coordinator of Samagra Shiksha, Pondicherry who discussed on, ' Teaching Yoga to the Divyanga: Practical Difficulties' faced by the special educators in the Government schools of Pondicherry teaching special children.
The concluding session of the seminar was the most lively panel discussion consisting of five panelists and moderated by Director, CYTER, Dr. Ananda balayogi Bhavanani. The panellists were Dr Shashikant V Albal, Director, SSN School of Advanced Engineering, Chennai, Smt Chitra Shah, Director Satya Special School, Sri Ardhanari, an eminent educationalist from Pondicherry, Ms Anjali Deshmukh, a researcher at Kaivalyadhama from Pune and Ms Deeya Ramrakshani, yoga teacher teaching children with special needs from Mumbai. The panelists discussed the many-dimensional problems faced by these children in this society and how they could be alleviated through yoga.
25 students each from both Kasturba Gandhi Nursing College and Allied Health Sciences of SBV were sponsored by CYTER to attend the seminar as part of their yoga education.
The event was organized by the CYTER team led by its director Dr. Ananda Balayogi Bhavanani and ably assisted by the Deputy Director Dr. Meena Ramanathan and Lecturer Sri G Dayandiy.
A special souvenir was released on the occasion and is available for free download from https://www.slideshare.net/anandabhavanani/informative-souvenir-of-sbv-idy-2019-celebrations-organised-by-cyter
Day 3: An interactive and much sought after the workshop was conducted by CYTER on "Yogic approach to children with special needs" on 15 June 2019. More than 60 delegates from abroad and many Indian states attended the event which was held at Patanjali Yogashala, CYTER of SBV. Dr. Ananda, Director, CYTER elucidated upon the different aspects in the "Yogic approach to children with special needs" followed by "Training session for Teachers of Divyanga" by Dr. Meena Ramanathan, Deputy Director, CYTER. All the participants actively took part and interacted with zest and enthusiasm in both the discussion as well as the practice session and enjoyed thoroughly. Appreciative feedback was given by the participants of the Seminar and workshop. The two-day event concluded with the Certificate distribution and vote of thanks.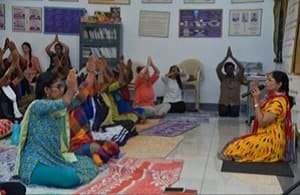 Day 4: Awareness program for the children with special needs was conducted in association with Satya special School at their School campus at Pondicherry on 17 June 2019. Dr. Meena conducted two different practice sessions in the presence and under the valuable guidance of Dr. Ananda. The first Yoga session was for the mixed group of more than 50 special children with varied disabilities and impairments followed by a much-needed practice session for the parents and teachers of the special children. Both children and parents/teachers had fun and laughter-filled sessions. They participated without any inhibitions and gave the feedback that they all felt thoroughly relaxed after practicing the simple yogic techniques They promised to continue the practices henceforth for the benefit of the children and themselves.
Day 5: An awareness program on "Mental Health and Wellbeing through Yoga for the children with special needs" was conducted by CYTER of SBV in association with and at Global Trust residential school for special children, Cuddalore.
An awareness program on "Mental Health and Wellbeing through Yoga for the children with special needs" was conducted by CYTER of SBV in association with and at Global Trust Residential school for Special Children, Cuddalore. More than 75 special children along with the teachers participated with utmost enthusiasm and benefitted much as well as enjoyed thoroughly. Sri Danushapnadeesh, Yoga Instructor of CYTER conducted the session under the able guidance of Dr. Meena. A team of students from the Allied Health Sciences of SBV also were present and assisted during the session.
Day 6: Health & Well-being in Silver Citizens through Simplified Yoga Practices: Awareness program for the senior citizens on 19.6.2019 at Serene Pelican Township for the Retired, Pondicherry. The program was organized by CYTER of SBV in association with Serene Pelican. A group of enthusiastic 'young' senior citizens participated in the program conducted by the CYTER team led by Sri Dayanidy, ably assisted by Sri Danushapnadeesh and performed the yogic practices with devotion. It was very well appreciated and well taken by all who participated. A team of students from the Allied Health Sciences of SBV were also present and assisted during the session.
Day 7: More than 120 students from Arupadai Veedu Medical College of Vinayaka Mission, Kasturba Gandhi Nursing College and Allied Health Sciences of SBV participated with zeal, in the Regional Level Yogasana Competition and won prizes. This competition was conducted by CYTER in association with the Pondicherry Yogasana Association (PYA). Senior jury members of PYA Sri Shanmugam, Smt Lalitha Shanmugam, Sri Gajendiran, Sri Senthil Kumar, Sri Anbazhagan, Sri Govindaraju, Dr Balaji, Sri Artchoudane, Smt Meera Artchoudane, Smt Sreedevi, Smt Vijibarani, Smt Vidyasri, graciously accepted to judge the competitors who competed with a true yogic spirit by doing their best and leaving the rest. Deputy Medical Superintendent (DMS) of MGMCRI, Dr. Swathi Jayant Pawar gave away the prizes and honored the winners and the juries.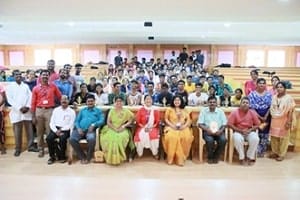 Day 8: More than 3500 school students, yoga practitioners, and enthusiasts participated in the Mass Yoga Demonstration at the Promenade of Pondicherry Beach and made the International Day of Yoga celebrations a huge success. CYTER Team along with a group of students from KGNC and AHS participated in the mass demo organized by the Education Dept of Puducherry in association with the Tourism Dept, Govt of Puducherry.
CYTER team led by Dr. Meena conducted an awareness program for more than 200 rural School students of Thiyagi KR Subramaniya Padayachi Govt Higher Sec School, Koravelimedu, Puducherry along with Sri Dayanidy, Garima Setia, Aurienne and Kiaan Gupta and a team of students from Allied Health Sciences of SBV were also present and assisted during the session. All the male and female teachers of the School also did the practices along with the students and enjoyed very well.
The CYTER team also visited the Government of Puducherry, Primary Health Centre, Health and Wellness Centre of Koravallimedu. Yoga program on a regular basis is being planned for antenatal women visiting the PHC in the near future.
Dr. Meena has been invited as the Chief Guest for international yoga day on 21st June 2019 by the Anugraha ladies meditation Center, Anugraha Township, Tavalakuppam, Pondicherry. A talk was given by Dr. Meena on 'Yoga for the Heart', to a group of more than 100 enthusiastic yoga practitioners. A short and soulful program was well appreciated by all the participants.
Day 9: Yoga awareness program for rural high school students at Keezhkumaramangalam near Seliamedu on 24.6.19. CYTER team led by Sri Dayanidy G and assisted ably by Danushapnadeesh, Garima Setia and Auriane Pellissier conducted the program and taught a few Yogic techniques to the students who enjoyed thoroughly. The program was organized in association with the Community Medicine dept, MGMCRI, of SBV.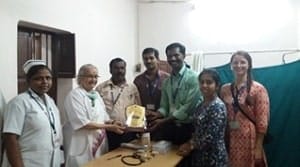 IDY 2019 celebration in Rome, Italy
Dr. Ananda Balayogi Bhavanani, Director CYTER of Sri Balaji Vidyapeeth was Guest of Honour for the IDY 2019 organized by Indian Embassy and Italian Hindu Union at Rome on 21 June 2019. Hundreds of yoga enthusiasts participated in the gala event held at the historic venue.