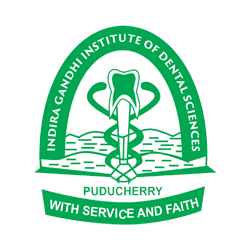 INDIRA GANDHI INSTITUTE OF DENTAL SCIENCE
Sri Balaji Vidyapeeth (Deemed to be University)
Department of Oral Medicine and Radiology
The department mainly focus on diagnosis and management of oral mucosal and potentially malignant diseases. The research thrust areas oriented towards Potentially malignant disorders and oral cancer and advanced imaging modalities. Cone-beam computed tomography (CBCT) is an advanced imaging modality that has high clinical applications in the field of dentistry. CBCT proved to be a successful investigative modality that has been used for dental and maxillofacial imaging.
Thrust area of the Department and Research projects in the thrust area
Cone beam computed tomography
Artificial Intelligence
Alternative Medicine
Forensic Dentistry
Tobacco cessation
Oral Cancer
Yoga
Potentially Malignant Disorders
Notable Research projects and their outcome (outcome can be publication, New product , implementation in patient care,etc.)
Jijin MJ, Jagat Reddy, Vinod K. Role of forensic odontology and anthropology in the identification of human remains. J Oral Maxillofac Pathol. 2021 Sep-Dec; 25(3): 543–547
Rakhi Issrani, RC Jagat Reddy, Tarek H El-Metwally, Namdeo Prabhu. Periodontitis as a Risk Factor for Breast Cancer – What We Know Till Date? Asian Pac J Cancer Prev.2021; 22(10):3109-3114
Thiruvalluvan A, Sekizhar V, Ramanathan M, Bhavanani AB, Reddy JR. Effects of pranayama techniques with Marmanasthanam Kriya as yogic relaxation on biopsychosocial parameters prior to endodontic therapy: A cross sectional study design. Int J Yoga 2021;14(2):150-155.
Baliah JW, Keluskar V, Livingstone DW, Panwar A. Evaluation of pain management and quality of life among oral cancer patients – A cross sectional study. I Indian Acad Oral Med Radiol 2021;33:124-8.
Manjula DC, Vandana Shekar, Jagat Reddy RC, Santosh Palla, Avudaiappan Sankaran, Sivashankari Thirunavukarasu. Evaluating the effect of 8-week behavioural counselling on smokers with low dependence and correlating with salivary cotinine levels in South Indian working men – A preliminary study. J Adv Clin Res Insights 2021;8(3):58-62.
Thiruvalluvan A, Reddy J, Sekizhar V, Subramanyam V, Sivasankari T, Varsha V. Estimation of salivary matrix MMP 9 in oral leukoplakia, OSMF and healthy individuals: A comparative observational study. J Stoma 2021;74(4):221-226.
Funded projects (Government, Non – Government and University)
Completed:
Dr. Sivasankari T, Reader, Dept. Of OMR, received an Intra Mural Grant of Rs 2,26,000/- for the research proposal titled 'Comparative evaluation of efficacy of nicotine chewing gum and nicotine patches as nicotine replacement therapy by estimating salivary cotinine levels in tobacco smokers – A randomized clinical trial'
Publication with high impact factor
Palla S, Rangdhol V, Shekar V, Jahan AJ. Oral lichenoid reactions to talcum powder: A usual report with unusual history. Indian J Dermatol Venereol Leprol 2018;84(3):347-349.
Palla S, Shekar V, Reddy JRC. Methicillin-resistant Staphylococcus aureus superinfection over untreated candidiasis resulting in oronasal fistula. Indian J Dermatol Venereol Leprol. 2019 doi: 10.4103/ijdvl.IJDVL_573_18.
Patents , Patents revenue and copyright
Patents include:
Modified anti-gag film (Patent No. 202141013938) by Dr. Vandana S, Dr. Pavithranand

Universal acrylic teeth trimming device (PCT/IN2017/000039) by Dr. John Baliah
Copyrights include: (most important ones)
Feedback on SNACS – A 12 Questionnaire feedback form for students needing additional curricular support (SNACS) by Dr. Vandana S (Copyright No. L-88123/2019)
The department partners with various other Institutes/departments/industry for research activities. Collaborations have resulted in the following research activities:
Sl. No.

Title of the Research / Clinical Trial

PI and Co-PI

Collaborating departments / Institutions

1

Effect of yogic relaxation technique on Bio psychosocial parameters in patients undergoing root canal treatment for the first time

Dr. Akshaya,

Dr. Vandana S

 

CYTER, MGMCRI

2

Estimation of MMP 9 in saliva among patients with oral leukoplakia, OSMF and controls

Dr. Akshaya,

Dr. Vandana S,

Dr. Jagat Reddy

 

CIDRF, MGMCRI

3

Effect of behavioural counselling in smokers by estimating salivary cotinine levels using ELISA – An Interventional Study

Dr. Manjula,

Dr. Vishwanath Rangdhol

Department of Biotechnology, Pondicherry University, Pondicherry