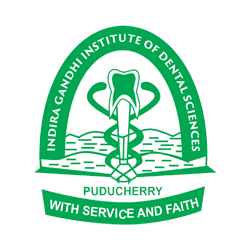 INDIRA GANDHI INSTITUTE OF DENTAL SCIENCE
Sri Balaji Vidyapeeth (Deemed to be University)
Thrust area of the Department and Research projects in the thrust area
Clinical Periodontics
Perio Aesthetics
Periodontal Medicine
Basic Periodontal Research
Notable Research projects and their outcome (outcome can be publication, New product , implementation in patient care,etc.)
CLINICAL PERIODONTICS PUBLICATIONS
S.No
Year
Publication

1

2015

Ahila.E, Jananni.M.   Vineelakattam Reddy, Saravanakumar.R Papilla augmentation using Platelet rich   fibrin-A case report. JSD 2015;5(1) : 60-64

2

2015

Minumathew ,   Saravanakumar R, Pratebha B , Jananni M. Frenectomy with laterally displaced   flap – a case report

Journal of   Scientific Dentistry . 2015;5(1): 52-55

4

2015

Ugabharathi   R, Pratebha B, Jananni M, Saravanakumar R Clinical evaluation of Increase in   the width of attached gingiva using Modified apically repositioned flap – a   case report .2015; 5(1): 56-59

5

2016

Priyadharshini V,   Triveni MG, Mehta DS. Management of gingival recession in mandibular molar   using lateral pedicle flap technique. Int J Oral Health Sci 2016;6:96-9.

6

2018

Ahila   E, Saravana Kumar R, Reddy VK, Pratebha B, Jananni M, Priyadharshini V.   Augmentation of interdental papilla with platelet-rich fibrin. ContempClin   Dent 2018;9:213-7.

7

2018

Ughabharathy   R, Balu P, Muthu J, Saravanakumar R, Vineela K, Karthikeyan I. Clinical   evaluation of increase in the width of attached gingiva using modified   apically repositioned flap: A 9-month follow-up study. ContempClin Dent   2018;9:200-4.

8

2018

Arvina R, Pratebha Balu, Saravana Kumar R , Jananni Muthu.Assessment of true end points in periodontal flap surgery patients –A DIDL questionnaire study. Journal of basic, clinical and applied health sciences 2018; 2: 25-30

9

2019

Jananni   M, Sivaramakrishnan M, Kuduruthullah SSK, Fattah MA, Kaseh AEL, Khair MB,   Fathy EK. Orthodontic Button Assisted Coronally Advanced Flap for Treatment   of Multiple Teeth Recession: A Case Report with Literature Review. World J   Dent 2019;10(1).

11

2019

Venkatesan AS, Kumar V, Balu P, Ilangovan K, Reddy   VK,

Ravindran SK. Splinting of Implants and Adjacent Natural Teeth   for

   

for Esthetic Correction in Anterior Maxilla: A Case   Report. J Sci Den 2019;9(2):53–56.

12

2019

Arvina. R, Vinoth Kumar. B. Frenectomy with   laterally displaced flap – A case report. Research Journal of Pharmacy &   Technology 2019; 12: 3669 – 71.

13

2020

Gowtham K, Karthikeyan I, Pratebha   B, Rajkumar E, Priyadharshini V, Reddy VK. Immediate Implant Placement and   Loading in Anterior Maxilla: A Case Report. J Sci Den 2020;10(1): 17–20.

14

2020

K Srinivasan,kalyan S,Muthu J,Balu   P, Priyadharshini V, Kumar RS. Periodontally accelerated osteogenic   orthodontics in the mandibular premolar-molar region: A case report.J sci Den   2020;10(1):14-16.

15

2021

K. Shivaranjani, B. Pratebha,   Jananni Muthu, R. Saravanakumar, I. Karthikeyan. Change in periodontal   status, oral health knowledge, attitude, and practices following video-based   counseling: A cross-sectional study. Journal of Mahatma Gandhi Institute of   Medical Sciences 2021; 26: 36-41.

16

2021

Krishna G, Ravindran SK, Balu P,   Muthu J, Sathiyaseelan S. Comparison of Sclerostin Levels in Gingival   Crevicular Fluid before and after Nonsurgical Therapy in Smokers and Nonsmokers   with Chronic Periodontitis. World J Dent 2021; 12 (5):363-366
PERIO ESTHETIC SURGERY PUBLICATION
| S.No | Year | Publication |
| --- | --- | --- |
| 1 | 2015 | Raghu R, Pratebha B, Jananni M, SaravanaKumar .   Image J Intensity Values To Objective Dummet Gupta Classification Of   Physiologic Gingival Pigmentation. Clinical Advances In Periodontics 2015;   5(2); 143-46 |
| 2 | 2015 | Devi.S,   Karthikeyan I, Mythili.S, Anitha.K Piezosurgery in Periodontics Int J of   Prosthodont and Restor Dent 2015; 5(2): 51-55 |
| 3 | 2015 | Ugabharathi R,   Pratebha B, Jananni M, Saravanakumar R Clinical evaluation of Increase in the   width of attached gingiva using Modified apically repositioned flap – a case   report .2015; 5(1): 56-59 |
| 4 | 2016 | Raaman AR, Pratebha   B, Jananni M, Saravanakumar R. Comparison of efficacy of depigmentation of   gingiva in terms of ImageJ intensity values and surface area of   repigmentation using scalpel and diode laser. Int J Oral Health Sci   2016;6:59-64. |
| 5 | 2016 | GayathriPriyadharshini,   Jananni, Saravana Kumar, Pratebha, S.P. Indra Kumar. Bridge Flap for the   Treatment of Multiple Gingival Recession. Journal of Scientific Dentistry,   2016;6(1):30-33 |
PERIOMEDICINE PUBLICATIONS
S.No
YEAR
PUBLICATION

1

2016

Jananni M, Sivaramakrishnan M, Mahendra M. Mouth the mirror of lungs –   Where does the connection lie?.

Front.   Med. 2016; 10(4): 405 – 9.

2

2016

Devi S, Murugappan S, Swaminathan M, Illangovan K, Mangalekar S   B,Kannaiyan A. Assessment of Periodontal Inflamed Surface Area and Its   Relationship with Glycemic Control in Type 2 Diabetes. J Health Sci Res   2016;7(1):6-11.

3

2016

S.P. Indra Kumar, GayathriPriyadharshini, Priyadharshini, Venkat   Narayanan. Squamous Cell Carcinoma of Supraglottic. Journal of Scientific   Dentistry, 2016;6(1):20-23

4

2017

SivasankariT,Mathew P, Austin RD, Devi S.Marfan syndrome. J Pharm   BioallSci 2017;9:73-7.

5

2017

Elangovan GP, Muthu J, Periyasamy IK, Balu P, Kumar R S. Self-reported   prenatal oral health-care practices of preterm low birth weight-delivered   women belonging to different socioeconomic status: A postnatal survey. J   Indian Soc Periodontol 2017;21:489-93

6

2018

Jananni M, Sivaramakrishnan M. Periodontitis and respiratory diseases:   What does the current evidence point to? Current Oral Health Reports 2018; 5:   63 – 9.

7

2019

Sivaranjani KS, Kumar B.Na, Hema P, ArvinaR.Genetic aspects of Chronic   and Aggressive Periodontitis. Journal of Scientific Dentistry 2018;8(2):63-70

8

2019

Kumar B.Na, Balu P, Muthu J, Kumar RS, Karthikeyan I, Devi SS   .Correlation of stress and

periodontal   disease severity among coal mine workers in Tamilnadu : A   clinicobiochemical

study. Indian J   Multidisip Dent 2019;9:36-39

9

2019

Sivaranjani KS, Balu P, Kumar RS, Muthu J, Devi SS, Priyadharshini V.   Correlation of periodontal status with perceived stress scale score and   cortisol levels among transgenders in Puducherry and Cuddalore. SRM J Res   Dent Sci 2019;10:61-4.

10

2019

Arun V, Pratebha B, Saravanakumar R, Muthu J, Vineela K. Salivary   interleukin-6 levels among polycystic ovary syndrome patients with and   without chronic periodontitis – A comparative study. Contemporary Clinical   Dentistry 2019; 10: 498-501.
BASIC PERIODONTAL RESEARCH PUBLICATION
S.No
Year
Publication

1

2015

J Muthu, S   Muthanandam, J Mahendra,Namasivayam A, John L, Logaranjini A Effect of   Nonsurgical Periodontal Therapy on the Glycaemic Control of Nondiabetic   Periodontitis Patients: A Clinical Biochemical Study.Oral Health and   Preventive Dentistry 2015; 13(3): 261-266

2

2017

Anitha K, Sakthi Devi S, Aravind V, Ramesh Babu M R, Premlal K

R. An Insight into Knowledge, Attitude and Awareness of Oral

Health among Diabetic Subjects in Puducherry – A Questionaire

Study. Sch. J. App. Med. Sci. 2017; 5 (2A): 363 – 368.

3

2018

Minu P Mathew,   Saravanakumar R, Pratebha B, Karthikeyan I,

VineelaKatam Reddy,   Sakthi Devi S. Evaluation of Tensile Strength

of Surgical   Absorbable and Non-Absorbable Suture Materials-An In

vitro Study SBV   Journal of Basic, Clinical and Applied Health

Science' 2018; 2:   111-116

4

2018

AravindRaajV,JananniM,PratebhaB,SaravanakumarR,VineelaK,Sak

thideviS,Light   Microscopic Analysis of Toothbrush Bristle End

Morphology – An In   Vitro Study. Acta Scientific Dental Sciences

2.7

5

2018

Gayathri E,   Indrakumar SP, Saravanakumar. R, Jananni M, Pratebha

B. Periodontal   screening and recording versus traditional Clinical

periodontal   examination in the assessment of periodontal status. Int J

Sci Res 2019; 8(4):   1-5

6

2021

Pratebha Balu, Vignesh Mariappan, Adithan Chandrasekaran, Kennedy   Babu, Agieshkumar Balakrishna Pillai, Downregulation of protein and mRNA   levels of vimentin in periodontitis – A potential biomarker candidate for   periodontal severity?;Gene Reports,2021;25:101308.
Funded projects (Government, Non – Government and University)
IMR
| Project | PI/Co PI | Funding agency | Fund received |
| --- | --- | --- | --- |
| Influence of TLR (toll like receptor) and nod (nucleotide- oligomerisation domain protein like) receptors polymorphisms in chronic periodontitis in south Indian population | Dr. Pratebha (PI) | SBV | Rs. 1,75,000 |
| Proteomic studies on selected immuneresponse related molecules modulating immune response in periodontitis | Dr. Pratebha (PI) | SBV | Rs. 1,48,000 |
Publication with high impact factor
| 1 | Jananni M., , Sivaramakrishnan M., Jaideep Mahendra, Syed Kuduruthullah, Maher Abdel Fattah, Moutassem Billah Khair. Periodontitis presage pre-diabetes – A comparative study of glycemic control in non-diabetic population with and without periodontal disease. Biomedicine | 4.7 |
| --- | --- | --- |
| 2 | Jananni M, Sivaramakrishnan M, Mahendra M. Mouth the mirror of lungs – Where does the connection lie?. Front. Med. 2016; 10(4): 405 – 9. | 3.4 |
| 3 | Pratebha Balu, Vignesh Mariappan, Adithan Chandrasekaran, Kennedy Babu, Agieshkumar Balakrishna Pillai, Downregulation of protein and mRNA levels of vimentin in periodontitis – A potential biomarker candidate for periodontal severity?;Gene Reports,2021;25:101308 | 1.4 |
| 4 | Pratebha Balu, Vignesh Mariappan, Adithan Chandrasekaran, Kennedy Babu, Agieshkumar Balakrishna Pillai, Downregulation of protein and mRNA levels of vimentin in periodontitis – A potential biomarker candidate for periodontal severity?;Gene Reports,2021;25:101308. | 1.4 |
Patents , Patents revenue and copyright

Patent title

Authors

Application number

Status

date

Mouth mirror with periodontal flap retractor

Dr. Priyadarshini,

Dr. Karthikeyan,

Dr. Pratebha



202041007830



ESR response filed

25.2.2020

SL NO

PROJECT NAME

INVESTIGATOR

COLLABORATING DEPARTMENT

Funding

STATUS

1

Influence of TLR (toll like receptor) and nod (nucleotide-oligomerisation domain protien like) receptors polymorphisms in chronic periodontitis in south indian population

Dr. Pratebha

CIDRF, MGMCRI

SBV IMR

1,75,000

Completed

2

Proteomic studies on selected immune response related molecules modulating immune response in periodontitis

Dr. Pratebha

CIDRF, MGMCRI

SBV, IMR

1,48,000

Completed

3

Periodontitis Presage Pre-Diabetic State In Systemically Healthy Population – A Pilot Analysis Of Insulin Resistance, IRS-1 SER307 Phosphorylation

Dr. Jananni Muthu

CIDRF

–

ONGOING



4



Evaluation of prakriti (Constitutional Body Types) and its variations in patients with periodontitis- a pilot study ( faculty project)


Dr. Priyadharshini

CYTER

–

Completed

S.NO

NAME OF THE STUDENT

YEAR OF STUDY

DISSERTATION TOPIC

FUNDING

Collaborating Institute / Department

1.

Dr.Arun Varghese V.T.

2015-2018

Salivary Interleukin-6 Levels Among Polycystic Ovary Syndrome (PCOS) Patients With And Without Chronic Periodontitis – A Comparitive Study

SBV

Department of Obstetrics & Gynecology, Sudha Hospital, Vadalore

2.

Dr.Arvina.R

2015-2018

Plaque microbiota around restorations on natural tooth and implants – A Comparative Study

SBV



3.

Dr.Shahinas Begum.B

2015-2018

Correlation of salivary retinol binding protein – 4 levels with BMI in chronic Periodontitis patients.

SBV

CIDRF, SBV



4

Dr. Sivaranjani K.S

2016 – 2019

Assessment of change in oral health knowledge, awareness and practices following oral health counselling among male, female and transgender population in puducherry and cuddalore – an

interventional study

SBV

SCHODS society, Cuddalore

5

Dr. Vinothkumar

2016 – 2019

Prevalence of periodontal disease among coal mine workers in tamil nadu – a cross sectional survey

SBV

Neyveli Lignite Corporation, Coal India limited.

6

Ananya

2018-2021

Comparison of NLRP3 gene expression and load of P. gingivalis in chronic periodontitis patients.

SBV

CIDRF

7

Srinivasan

2018-2021

Comparative evaluation of antimicrobial efficacy of silver nano particles infused with Azadirachta indica extract and chlorhexidine against red complex pathogens.

SBV

Helikem Biotek industrial research private Ltd. Trichy, Tamilnadu

8

Umar

2018-2021

Adjunctive use of Ashwaganda gel in generalized chronic periodontitis – A clinical trial

SBV

Helikem Biotek industrial research private Ltd. Trichy, Tamilnadu

9

Elsie Sunitha Ebinazer

2019 – 2022

Assessment Of Wound Healing After Periodontal Flap Surgery With And Without Platelet Rich Fibrin- A Randomised Controlled Trial

SBV

Department of Biochemistry, Annamalai University.

10

Priyadarshini

2019 – 2022

Comparative evaluation of TNF-alpha levels in Gingival crevicular fluid and HbA1c levels in non-diabetic subjects with and without periodontitis

SBV

Department of Biochemistry, Annamalai University.

11

Monika

2020 – 2023

Comparative evaluation of melatonin levels in gingival crevicular fluid before and after non-surgical therapy in periodontal health and disease

SBV

CIDRF, SBV

12

Madhu Priya

2020 – 2023

Comparative Evaluation Of PLAP-1/Asporin Levels In Periodontal Health And Disease- A Cross-Sectional Study

SBV

CIDRF, SBV

13

Prajyot Raut

2020 – 2023

Assessment Of Wound Healing Using Diode Laser Versus Conventional Non-surgical Periodontal Therapy (NSPT) In The Treatment Of Patient With Chronic Periodontitis With Type-2 Diabetes Mellitus- A Split-mouth Clinico-biochemical Study

SBV

CIDRF, SBV