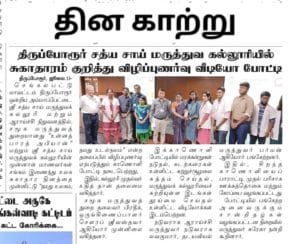 The Department of Community Medicine in collaboration with Unnat Bharat Abhiyan 2.0 and the Alumni  Association of Shri Sathya Sai Medical College and Research Institute organized a Video contest on World Heart Day.
The aim of the Contest was to witness the young and active minds doing in action in terms of what they can contribute to our Planet by involving in 
Planting saplings 

Cleaning Environment 

Plastic disposal 

Waste management 

Other Innovative ideas
For the above contest, students actively participated, and to felicitate the best video, a program was planned by the Department of Community Medicine on 12-07-2022, Tuesday afternoon between 02:15 to  04:00 PM at the ground floor lecture hall of Shri Sathya Sai Medical College
 The program started with a Prayer song following which the Welcome address was delivered by Dr. Prateek Bobhate (HOD & Professor, Community Medicine) inviting the delegates, Judges, Faculty, students, and Press people. The inaugural address was delivered by Dean Dr. Udit. B. Das where emphasized the significance of the event by stating his own health. Dr. Saurabh Shrivastava, Professor of Community Medicine and Medical Education Unit Co-ordinator, SSSMCRI gave Introduction to the theme highlighting the need for the Program & the concept being involving students in action. After the welcome address, the session started with a Video screening which lasted for about 50 minutes followed by which Judges Dr. Dipayan Deb Barman, Professor & of HOD Forensic Medicine & Toxicology, and Dr. Lavakumar, Professor of Pharmacology shared their views about the student's activities. The videos were judged based on three criteria – Clarity, Work involved, and Editing. Results were announced by Dean and students were awarded cash prizes, trophies, and certificates by Dean and Dr. Helen Shaji, Principal, Shri Sathya Sai College of Nursing. Dr. Prateek Bobhate &
Dr. Saurabh felicitated the Dean and Judges and the program ended with a Vote of thanks by Dr. A.Surekha, Associate Professor of Community Medicine, SSSMCRI at 3.50 PM.
The event was very well covered by the Media people around 16 Press reporters came and covered in newspaper and TV Channels