Yoga and Ayurveda are important global systems of mind-body medicine. They shows us how to understand the language of nature, the language of life, so that we can live in harmony with the greater universe, not evolving only for ourselves but bringing benefit to all creatures.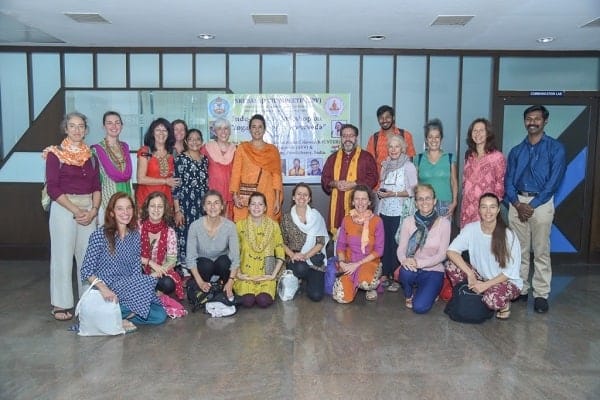 The Indo-French Workshop on "Yoga Therapy and Ayurveda" was conducted on 22nd October, 2019 at Maulana Abdul Kalam Azad Hall, Bapuji Library, SBV campus. This was Organized by the Centre for Yoga Therapy, Education and Research (CYTER) of Sri Balaji Vidyapeeth (SBV), and International Centre for Yoga Education and Research (ICYER) at Ananda Ashram, Pondicherry and supported by Gujarat Ayurved University, Centre for Yogic Sciences of AVMC and Krishnamacharya Yoga Mandiram.
More than 100 delegates from various countries like France, Columbia, UK and Holland and from various parts of India like Kerala, Tamil Nadu, Mumbai, Chennai, Gujarat, Delhi, Pune and Bangalore participated in the workshop. All the sessions were translated into French for the convenience of the French delegates.
Prof Madanmohan, Director Centre for Yogic Sciences of AVMC, delivered the pre-inaugural session on "Life style Modification: the yogic perspective". He highlighted that Yoga is a way of life based on the view of life, best gift by the Rishis to the world and that has an impact on health and being and work and life.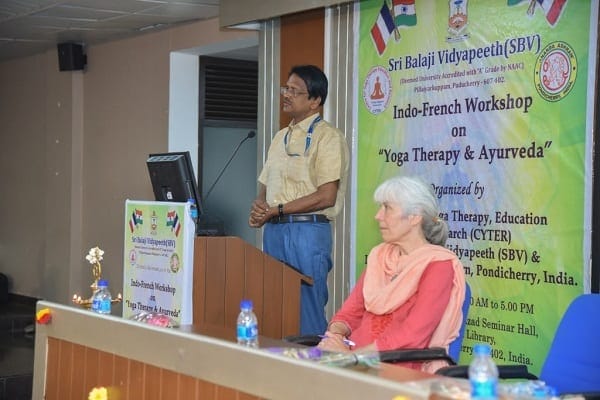 Inaugural program took place in the auspicious presence of the Honourable Vice Chancellor of SBV, Prof S.C Parija who inaugurated the program by lighting the lamp along with the invited international guests. Welcome address was delivered by Dr Ananda Balayogi Bhavanani.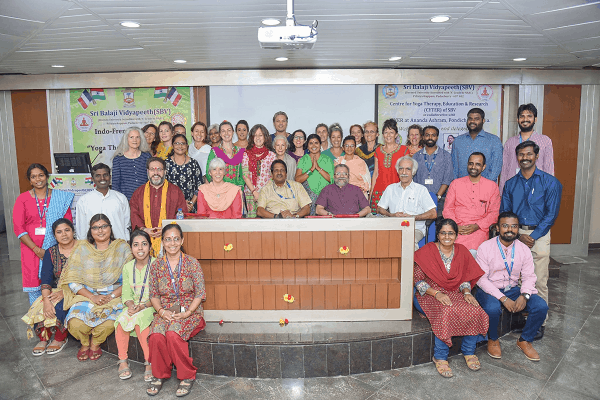 In his special address, Prof SC Parija stressed upon the importance of introducing wellness programs in the medical curriculum, which is the need of the hour. He took immense delight in stating that we at SBV are in the forefront of administering wellness programs through Yoga in the hospital setup. Pondicherry is the mini France of India and it is most appropriate that such an international event be held at Pondicherry. "Yoga brings all cultures together and hence is the integrating factor for humanity", he said.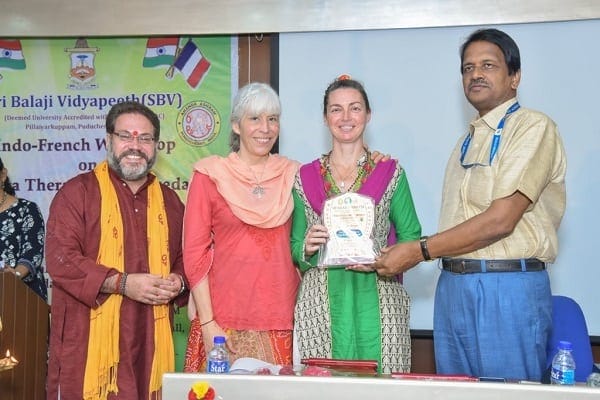 Michèle Lefèvre, founder of Yogamrita – Yoga intégral et Ayurveda, a school of Yoga and Ayurveda functioning in France since 2009 felicitated the occasion. Michèle and Isabelle Hernandez are the trainers at Yogamrita that is specialized in Ayurvedic approach to Yoga. They offer post-training for qualified yoga teachers. Michèle expressed her as well as her group's joy at the way Yoga is being integrated with modern medicine at SBV. She appreciated the efforts of Ammaji Yogacharini Meenakshi Devi Bhavanani at the Ananda Ashram for maintaining the pure tradition of Yoga with emphasis on the Indian culture.
Prof.Arpan Bhatt, HoD, Swasthavruta, Gujrat Ayurved University, Jamnagar, Gujarat spoke on "Enhancing Wellness through Ayurveda and Yoga". He described the characteristics of a healthy person in detail as per Ayurvedic texts, elaborated on the principles of Yogic practices and diet and lifestyle to be followed from the ancient texts. He discussed about wellness through Ayurvedic regime to be followed in day to day life.
Dr.Jayaraman Mahadevan, Director Research, KYM, Chennai in his session on "Importance of Sanskrit in Yoga Therapy" enlightened the audience on the richness of Sanskrit language and its importance in learning for proper understanding of Yogic and Ayurvedic texts and the concepts and its intricate meanings given there.
Post lunch session was taken by Dr.Ananda Balayogi Bhavanani, Director, CYTER, SBV on "Understanding Yoga Therapy (Part I): Principles, Philosophy, Assessment and Tools". He explained the focus of SBV is Salutogenesis as opposed to pathogenesis while giving Yoga therapy. He also briefed about the twelve point assessment given by Swami Gitanand Giri as a Yogic diagnostic tool which is being applied in CYTER.
Dr Meena Ramanathan, Deputy Director, CYTER, SBV in her session on "Understanding Yoga therapy (Part II): Case Studies, Findings and practices" elaborated on the research work done at CYTER, SBV on the effects of Yoga therapy being imparted for the various disorders, improving the overall wellbeing and quality of life. Few of the practices that were part of the intervention in those studies were demonstrated led by Dayanidy G, Lecturer, CYTER and demonstrated by Chandrakant Prakash. The participants of the workshop practised a few techniques led by Dr Meena and all enjoyed thoroughly.
Workshop ended by honouring the students and CYTER team and distribution of certificates to the participants. Vote of Thanks was given by Dr Meena Ramanathan.