World Hepatitis Day was commemorated by Shri Sathya Sai College of Nursing on 17th July 2021. Awareness program was held in reception area of Shri Sathya Sai Hospital from 10 am to 11 am, to educate the public on prevention and control of hepatitis. Program was hosted by Mr.Dinesh, nursing tutor, SSSCON. The program began with a welcome address by Mrs.R.Golda Sahaya Rani, Professor, SSSCON, followed by an inauguration by lighting the traditional lamp by dignitaries.
First year BSc nursing students Ms.Dhivya P., Ms.Pavithra S., Ms.Dhivyabarathi D., along with Dr.Sujatha T., Professor, SSSCON presented the health talk with flash cards. They spoke on the definition, symptoms, types, causes, prevalence, mode of transmission, diagnostic evaluation, management, control, and prevention of hepatitis.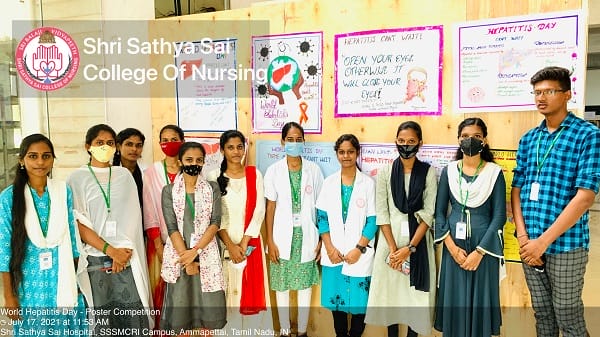 Prof.Dr.Helen Shaji, Principal, Shri Sathya Sai College of Nursing, gave a Keynote Address, unfolding the theme of this year's World Hepatitis Day which is "Hepatitis can't wait."
Poster's competition was held for students, their posters were displayed in the reception area of the hospital. Pavithra.S won first place, Adira P.Aji won second place and Adhila Baiju and Divyabharathi both won third place.