An assessment of the strengths, weakness, opportunities and challenges that are prevalent in the scenario of healthcare research in India was the focus of a recent conference on healthcare research organised by the Sri Balaji Vidyapeeth (SBV).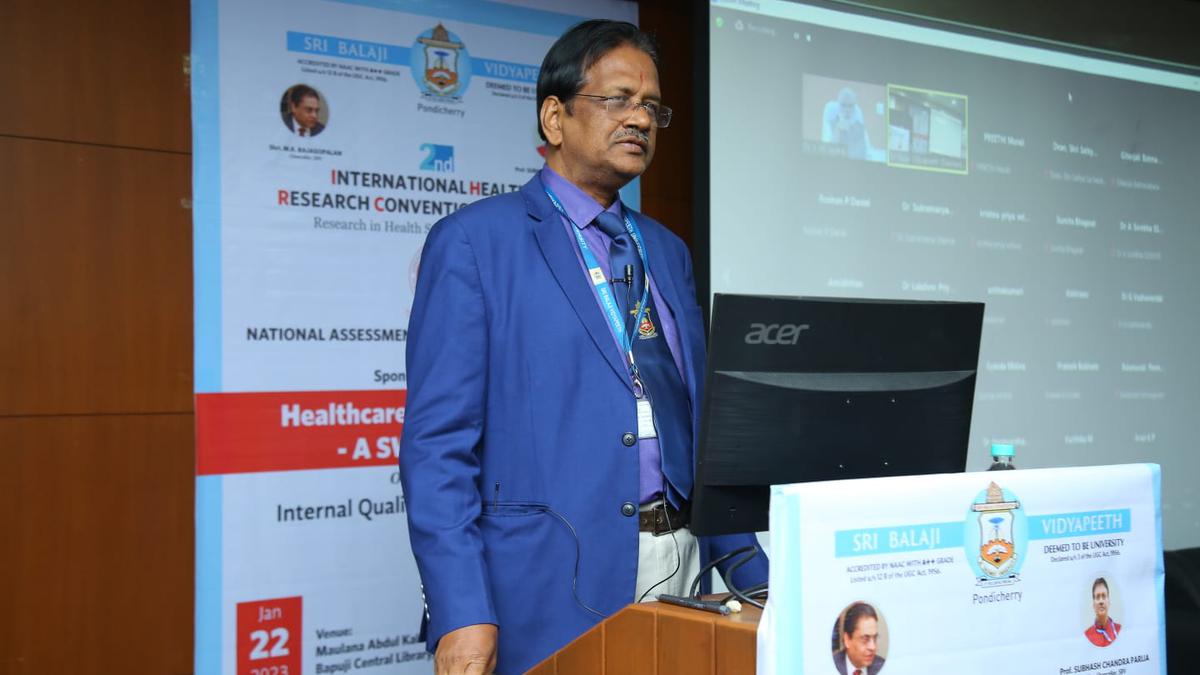 The one-day conference on 'Healthcare Research in India – A SWOC Analysis' supported by the National Assessment and Accreditation Council (NAAC) and held as part of the second International Health and Research Convention 2023, also analysed NAAC perspectives in the context of the National Education Policy, AYUSH and global rankings.
The Chancellors, Vice Chancellors and Directors of premier Indian universities and institutions participated as resource persons at the event, which was hosted by the Internal Quality Assurance Cell (IQAC) of SBV.
Inaugurating the conference, S.C. Parija, Vice Chancellor of SBV noted that undergraduate research curriculum was one of the areas of emphasis in the NEP. The "SBV ARCH", a copyrighted document had evolved to gauge the motivation of undergraduate students in health sciences towards research. Undergraduate students need to be initiated into research from the first year onwards, he said.
S.P. Thyagarajan, Chancellor, Avinashilingam Institute for Home Science and Higher Education for Women, Coimbatore, appealed for ensuring quality in research, innovation and scientific publication. Ved Prakash Mishra, Pro-Chancellor, Datta Meghe Institute of Medical Sciences, Kanpur, underlined the focus on inter-disciplinary research enshrined in the NEP 2020 document. Darshan Shankar, Vice Chancellor, University of Trans-disciplinary Health Sciences and Technology, Bengaluru, drew references to the differences in the concepts between allopathy and ayurveda in the realm of personalised medicine.
Among the dignitaries who participated were Ashwin Fernandes, QS Region Director, Middle East Africa and South Asia; P.V. Vijayaraghavan, Vice Chancellor, Sri Ramachandra Institute of Higher Education and Research; Vengamma B, Vice Chancellor, Sri Venkateswara Institute of Medical Sciences; Balram Sankaran, Head, Technology & Quality Management at Bio-Medical Technology, Sree Chitra Tirunal Institute for Medical Sciences.
Carounanidy Usha, Director – Accreditation, SBV, said the conference had paved the way for reinforcing the quest for future research in healthcare.