Student Support Cell Capability Enhancement
Soft Skill Development Program
Internal Quality Assurance Cell (IQAC) of Sri BalajiVidyapeeth has organized a 3 day Workshop on Soft Skill Development from 05th to 08th  February, 2020. The objective was to improvise the soft skills & communication skills among the students for their profession in future.The audience was welcomed by Dr. Carounanidy Usha. She also continued on to explain the scope of the program. Self-introduction was given by all the participants. The Resource person discussed in how soft skills are important for success & the necessity of utilizing soft skills to relate more effectively to other's perspectives and its application to specific situations.Effectively achieve desired outcome. The resource person Ms.AkshitaBahuguna, the founder of FutureIcons, New Delhi has given a brief explanation about the Communication skills to be developed by students in profession.Dr. Shivashakti, Professor, Department of Prosthodontics, IGIDS, conducted the hands – on sessions were conducted with som Communication skill competitions among students by grouping them into 4 groups. The feedback from the participated students indicated that the program was effective and has stimulated interest in them to attend more such programs.
Yoga and Wellness - IGIDS Program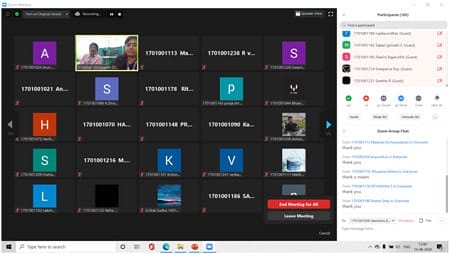 The 5 day, webinar series for student enhancement program were organized between 28th of July to 1st of August in for overall health and wellness by the Principal of IGIDS, Dr R. Saravana Kumar (Organizing chairman) and respected Vice principals Dr R. Sathyanarayanan and Dr A. SanthaDevy (Organizing secretaries).
The first two days were for music therapy. The faculty of Center for music therapy education and research(CMTER) SBV; Vikram Kannan, a music therapist from TTK addiction Center in Chennai;  Mr.StephenSathiamoorthy, the music therapist(CMTER) conducted introduction to music therapy for health, and experiential sessions with music therapy techniques.
The Third day was on yoga therapy conducted by Prof. AnandaBalayogiBhavanani, Director CYTER, SBV; Dr Meena Ramanathan, Deputy Director CYTER, SBV had sessions on introduction and insight into how yoga therapy can be useful for overall wellbeing.
The fourth day was taken by the student counsellors, Ms. Josephine and sS. Priya, who spoke about the stress management and how to manage it by focussing on themselves, video sessions  and hands on tasks. There were talks on building confidence and staying calm during the pandemic.
The last day was taken by Dr.Rajarathinam, Director Homeoclinic, Pondicherry. He gave an insight into homeopathy, had a session for question and answer (interactive session), session on how the meds were formulated in homeopathy, its applications, use of homeopathy as an interdisciplinary treatment
There were pre- and post-tests taken to evaluate the understanding of the sessions to the students.
Research Methodology and Bio Statistics
ONLINE RESEARCH METHODOLOGY AND BIO STATISTICS WORKSHOP was conducted for 3 consecutive days (15/8/2020 -17/8/2020) to provide an in-depth knowledge of various research methodologies and basics of biostatistics. Presentations were done by DR.VIKNESHAN, DR.SHIVASHANKAR, DR.SHYAM, DR.UMESHWADGAVE. All the first year PG students of Indira Gandhi institute of dental sciences participated in the program. Pretests and post tests were conducted before and after the program, also assignments were given each day after the program. Certificates were issued for all the participants.