Child Health Nursing is a specialty that focuses on nursing care of normal and sick children. The department offers quality education for UG students. It provides student-centered teaching and learning takes place in a conducive atmosphere that helps the students to gain confidence in their nursing knowledge and skills.
The aim of this course at the UG level is to prepare students to identify normal growth and development, its deviations and to respond to health care needs of infants, children and the family in a variety of settings and thereby provide comprehensive nursing care to children suffering from various diseases.
The Department of Child Health Nursing has a sound infrastructure and learning resources to meet the academic needs of the students both in theory and practice.
The department provides a pleasant and dynamic environment for the students with adequate seating, lighting, ventilation and AV aids like OHP, LCD, models, charts, specimen and document camera.
Separate MCH lab facility is available, and it has adequate equipment that improves the clinical skills of the students and students gain firsthand experience before they are posted in the clinical area.
Apart from this, students also utilize the state-of-the-art simulation lab that is accredited by the American Heart Association for certain procedures like neonatal resuscitation, IV cannulation, etc. This laboratory provides students an opportunity to learn and practice in a realistic and risk-free environment. The simulation center is an extremely effective way to offer an exemplary, safe, fun educational experience. These experiences offer invaluable opportunities to enrich and enhance learning as well as to increase student's confidence.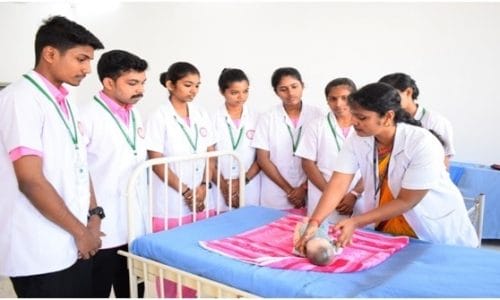 Celebrate Breast Feeding Week, Neonatal Week and Children's Day in community and hospital.
Provide preventive, promotive, curative and rehabilitative services for the children in the hospital and community.
Carry out research activities to provide evidence-based nursing care for children.