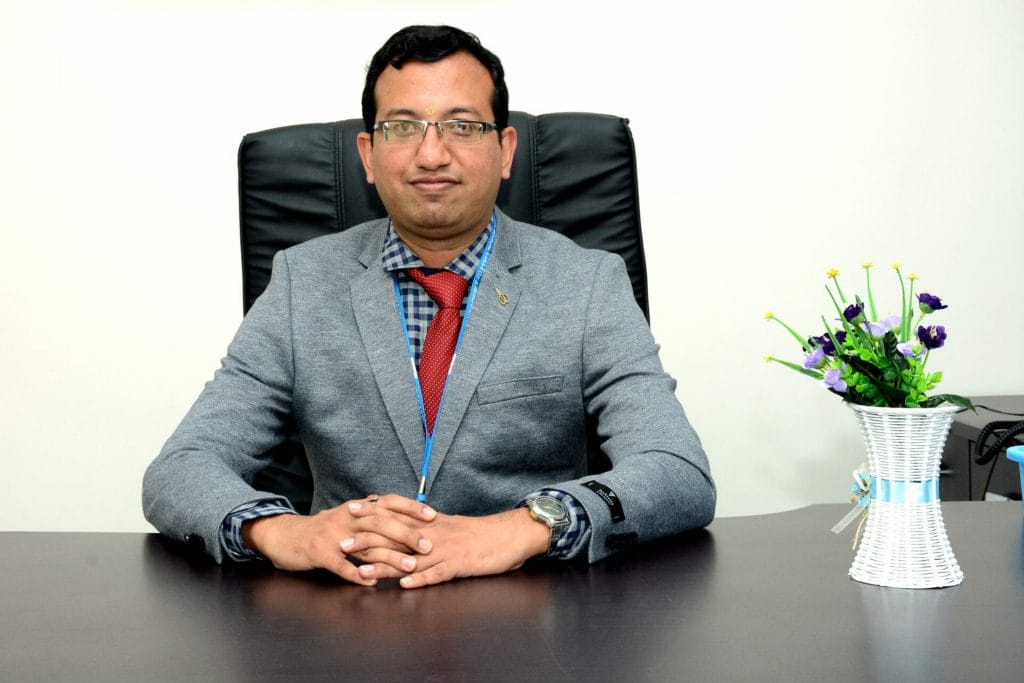 Dr. Srirangaraj Sreenivasan
MBBS, MD (Microbiology) Professor,
Dept. of Microbiology, MGMCRI

Controller of Examinations
Dr. Srirangaraj Sreenivasan is a Professor in the Department of Microbiology at MGMCRI and Controller of Examinations at Sri BalajiVidyapeeth, Pondicherry. He worked as Deputy Controller Examinations at SBV from 2010 to 2012 and was appointed as Controller of Examinations SBV from 2015 onwards till date. During his tenure, various initiatives and reforms have been initiated at Examination wing,  SBV that have led to smooth functioning of the activities of the examination wing and also faster declaration of results.
He has 52 publications in various national and international journals to his credit, has authored a monograph and also contributed a chapter on Microbiology in 'JIPMER 2014' and 'JIPMER 2015' book series.He has 7 copyrights and 1 patent to his credit. He has presented 15 papers as oral or poster presentations in various regional, national and international conferences and has won prizes in conferences- for best poster and in quiz competitions. He has been a guide and co-guide for MD(Microbiology) students and also has been an external examiner for MBBS, MSc (Medical microbiology)and MD atvarious health science universities in South India. He is also a reviewer for 9 pub-med indexed international and national journals.
Functions of Officials in Examination Wing
Controller of Examinations (COE)
CoE is responsible for the conduction of university examinations and all processes associated with examinations, such as, question paper preparation, scheduling of examinations, evaluation, and payment of remunerations/allowances for conducting university examinations.
CoE has direct control over all sections of examination wing -computer section, printing section, stores & records, strong room and office section. He/she also should ensure confidentiality.
CoE maintains the physical infrastructure like building, rooms, stores, etc. allotted for the examination wing and takes special care so that these are well-maintained for the conduct of examinations and central valuation.
CoE should maintain the records regarding malpractice by candidates and submit them to the Registrar, SBV for initiation of disciplinary action.
He/she arranges for the payment of remunerations and allowances (TA, DA, etc.) to question paper setters and examiners.
CoE must convene the result passing board under the chairmanship of Vice Chancellor and follow the stipulations laid down by regulatory agencies regarding award of grace marks and declare the results.
CoE should declare the results within 30 days as stipulated by UGC guidelines.
CoE has to adhere to the grievance policy of SBV and conduct revaluation/re-totalling as per the university stipulations, where there are provisions for the same.
CoE arranges for data analysis of the examination results and presents it to the institutional heads for corrective measures, if any.
CoE ensures safe custody of all examination related documents and records, question papers, answer papers, marks & certificates, through the examination wing officials and also to retrieve them for UGC or other regulatory agencies and for purposes of accreditation by agencies like NAAC.
CoE is the Member-Secretary of the Board of Examinations. He/she convenes meetings, conducts official communications and keeps the minutes of the Boards of Examinations and also presents the examination academic calendar before it.
CoE has to prepare the proposed annual budget of the examination wing and send it to the Registrar, SBV for presentation and approval by the planning and monitoring board.
CoE is a permanent invitee to the Board of Management. He/she ensures that all the directions of the Board of Management, Academic Council and Vice-Chancellor in respect of examination and evaluation are complied with.
CoE has to initiate reforms periodically in the examination wing in order to process results faster and accurately and also to digitize the various examination processes.
CoE presents the annual report of the activities of the examination wing to the Board of Management once every year along with the final year results of all the courses conducted by examination wing, SBV.
CoE is also expected to comply with the newer directives of UGC regarding evaluation processes as and when they are issued.
Know more
Collapse
Deputy Controller of Examinations
Deputy Controller of Examinations (Dy.CoE) assists CoE in planning, preparation, execution of examination related activities, such as, preparation of examination schedules and examination calendar, appointment of examiners/ question paper setters/invigilators, payment of remunerations and allowances.
CoE provides assistance to CoE in organization and implementation of examinations for various SBV courses.
He/she assists CoE in preparation of examination related policies, guidelines / SOPs, forms, reports / records as per the stipulations of various regulatory bodies.
He/she supervises the examination wing staff in carrying out various examination activities, such as student registration, hall ticket preparation, communications at various levels, conduction of examination, result processing, mark list printing and distribution, etc.
He/she ensures preparation, scrutiny, printing and dispatch of question papers to examination centres of constituent colleges in a timely manner.
CoE serves as members in various committees related to examinations, such as Board of Examinations, Result passing board, etc.
Know more
Collapse
Assistant Controller of Examinations
He/she provides assistance to CoE and Dy.CoE in preparation and execution of examination related activities, such as

Processing of students' applications for registration to examinations.
Hall ticket preparation and dispatch.
Communications for appointment of examiners, question paper setters and invigilators.
Question paper setting, scrutiny, typing/data entry, printing and dispatch to examination centres.
Conduction of examination and central valuation.
Result processing, tabulation and mark card printing and distribution.
Payments of remunerations.
Making arrangements for various meetings related to examinations (BOE meeting, result board meeting, evaluation grievance cell meeting) and record the minutes of the meeting.

He/she assists in the transit of files, communications and stationary to the off-campus site(s).
He/she ensures completion of typing/ data entry and crosschecking of the data in a timely manner.
He/she preserves examination related records with confidentiality.
He/she performs duties entrusted to him/her by superior officers.
Know more
Collapse
Assistant Registrar (Exam)
Handling for Confidential data.
Handling for valuation, re-valuation and re-totalling.
Monitoring of practical online entries and e-mail.
OMR scanning for all examinations.
Decoding of dummy and barcode numbers for manual and systematically.
Verification of each entry for manual and systematically after tabulation of marks.
Tabulation and preparation of marks registers before the board meeting.
Verification of PowerPoint (ppt.) for the board meeting.
Preparation and arranging for all documents to board meeting.
Preparation and Verification of results after the board meeting.
Preparation and Verification of statement of marks for all courses.
Preparation and Verification of correction / missing mark sheets.
Preparation and Verification of essential information for the purpose of all inspections (NAAC, UGC & etc.), required from dean office and departments for all courses.
Other miscellaneous work during conducting of university examinations for manual and systematically.
Know more
Collapse
The other personnel of the examination wing help in the co-ordination and smooth functioning of the various pre-examination, examination and post-examination processes.
Faculties & Staff of COE's Office
Controller of Examinations