GENESIS OF SRI BALAJI VIDYAPEETH (SBV)
Sri Balaji Vidyapeeth (SBV) came into existence in the year 2007 as a Trust, in accordance with the stipulated requirements, as laid under section 3 of UGC Act, 1956. SBV trust has been primarily set up to nurture the highest ideals and ethical values governing Health Professions Education. The metamorphosis of SBV trust was enabled, subsequent to the establishment of a Charitable Trust in the name and style- Sri Balaji Educational and Charitable Public Trust (SBECPT), which had come into existence in the year 1996.
OFFICE BEARERS OF SBV TRUST
| | | |
| --- | --- | --- |
| 1 | Shri. M.K. Rajagopalan | Managing Trustee |
| 2 | Smt. GowriRajagopalan | Trustee |
| 3 | Dr. Prashanth Rajagopalan | Trustee |
| 4 | Dr. Urjitha Rajagopalan | Trustee |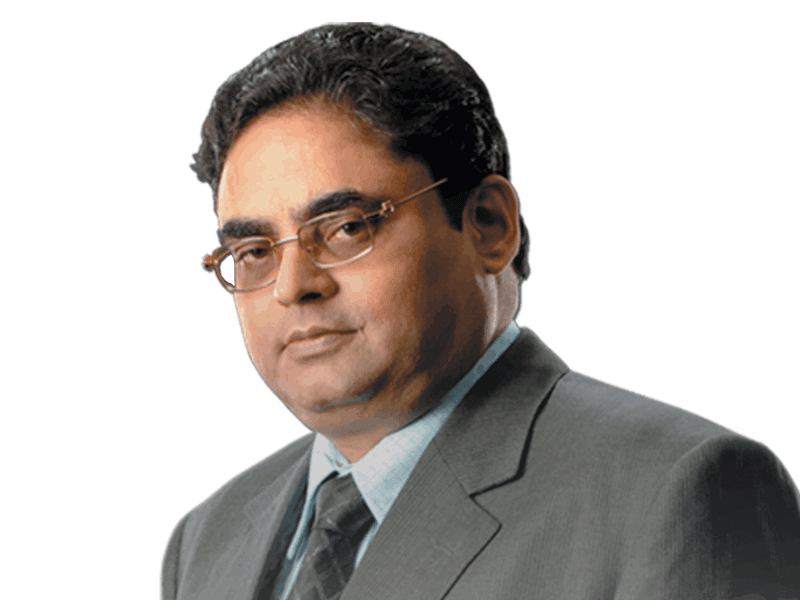 Shri. M. K. Rajagopalan
MANAGING TRUSTEE AND FOUNDER, CHANCELLOR, SBV
"Great minds have great purposes, others have wishes. Little minds are tamed and subdued by misfortune; but great minds rise above them."
Shri M.K. Rajagopalan is a reputed educationist endowed with single minded commitment towards nurturing higher education in health sciences. This led to the founding of Sri Balaji Educational and Charitable Public Trust (SBECPT) in order to bring about transformation, synonymous with world-class high quality education to the deserving and underserved.  
In addition, Shri Rajagopalan has laid due emphasis on the provision for outstanding patient centric healthcare to the underserved, underprivileged, and marginalized sections of society. His mission has thus been realized through two state – of – the – art medical colleges, a dental college, two Nursing colleges, School of Pharmacy, School of Biological Sciences, and Faculty of Allied Health Sciences. In addition to these institutes,   six designated centers of excellence housed at the main and off campuses afford greater visibility to SBV.
Born to highly principled and pious parents, Shri M.K.Rajagopalan hails from a diminutive village, namely Manikudi in Thanjavur district of Tamilnadu which has a population of only 2,000! A great visionary and philanthropist par excellence, Shri M.K.Rajagopalan epitomizes diligence, commitment, dedication, devotion, perseverance, zeal, and unstinting enthusiasm. Dynamism is thy name Shri M.K.Rajagopalan.
A robust and charismatic personality, Shri M.K.Rajagopalan is a stickler for details and perfection. He carries himself with poise, dignity and discipline that have been largely instrumental in envisaging the stellar progress made by Sri Balaji Vidyapeeth, within a short period of time, since inception (2008).
Shri M.K.Rajagopalan spares no efforts in providing a salubrious environment, be it for students, staff, faculty, patient or any other stakeholder.  As the familiar adage states "Philanthropy is involved in basic innovations that transform society", Shri M.K.Rajagopalan has embarked upon this noble mission with a sense of purpose and commitment.
Shri M.K.Rajagopalan believes that the philosophical strategy of transformation and empowerment is best achieved not just by one principle, but by a host of necessities that a society needs, viz.  education, health and socio-economic development.    Deliverance begins with self-learning.  When one sees that "All learning is self-learning", he ceases to be a teacher and begins to be an educationist.
Mahatma Gandhi said, "The best way to find yourself is to lose yourself in the service of others". Shri M.K.Rajagopalan through his deeds, as a 'karma yogi' continues with his endeavors in identifying himself with the community and the underprivileged around him.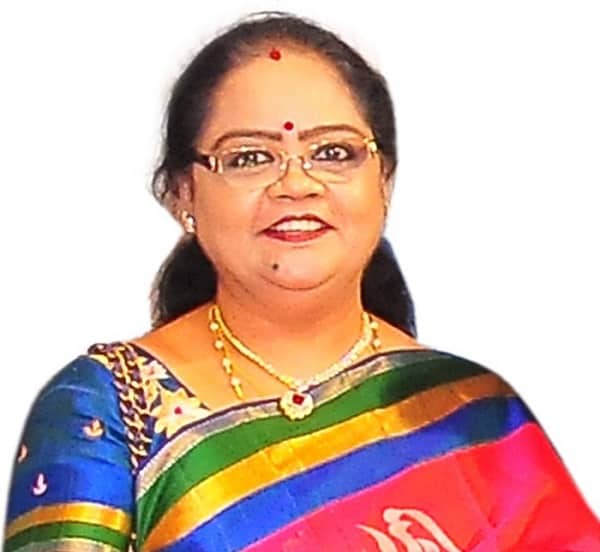 SMT. GOWRI RAJAGOPALAN
TRUSTEE, SBV
Smt. Gowri Rajagoplan hails from a respected and accomplished family of Royanallur, a  town in South Tamil Nadu known for its ethos and culture. Endowed with a keen sense of perception and target oriented actions, Madam Rajagopalan carries out the variegated activities with poise and readiness. Under the dynamic leadership and watchful eyes of Madam Rajagopalan, Sri Balaji Vidyapeeth is able to comply with ideals and tenets in compassion, commitment and dedication towards the cause of providing holistic education, especially to the underserved and deserving. Madam Rajagopalan is the Chairperson of Shri Sathya Sai Medical College & Research Institute, the Off campus institute of Sri Balaji Vidyapeeth.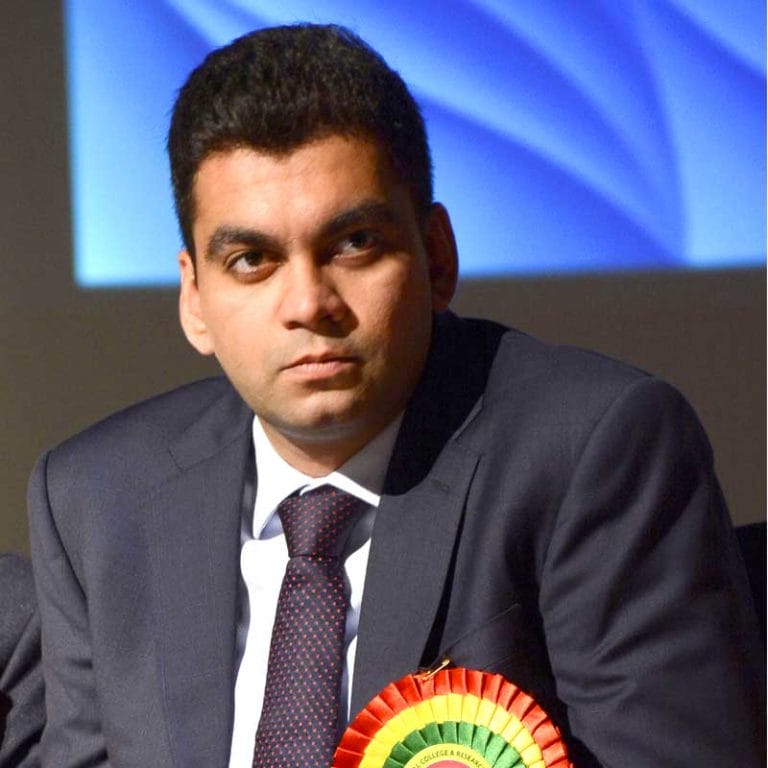 DR. PRASHANTH RAJAGOPALAN
TRUSTEE AND VICE-CHAIRMAN – SBV
Dr. Prashanth Rajagopalan is a young and dynamic medical professional endowed with proficient training at Sri Ramachandra Medical College, Chennai. Dr. Prashanth Rajagopalan has been evincing keen interest in health care administration, as evidenced by his credentials. He completed Master of Public Health (MPH) in Health Care Leadership and Management from the prestigious Johns Hopkins University, USA in the year 2015. Prior to this, he had been an observer at the Cleveland Clinic, USA, having equipped himself with working knowledge obtained at Louis Stokes, Cleveland VA Medical Centre, USA. Dr. Prashanth is a keen researcher too having presented his research work at the International Nephrology conferences at Seoul, South Korea and Vancouver, USA in 2011.
Dr. Prashanth firmly believes that health care professionals should also strive to becoming leaders in Health Care administration. He further opines that the health care leaders have to objectively discuss the challenges that crop up on a day to day basis and top it up with innovative, but meaningful solutions that enhance all of the avenues in health care including academics, patient care, research and administration. Dr. Prashanth is the youngest fellow from the Harvard Macy Institute. Dr. Prashanth firmly believes that the student community is a great force to reckon with and this is manifest in his being the Student President of the MedHope Foundation, a student run organisation to support underprivileged children undergoing treatment at the Paediatric Oncology division, Sri Ramachandra Hospital, Chennai.
A votary of digital solutions, Dr. Prashanth embarks upon several digital systems including those that manage hospital information and learning management. He emphatically believes that digital technology would open up newer vistas in the health care sector and this is evident from the activities that he is presently involved in his capacity as the Director of MGM Health Care, Chennai, which is a state – of – the – art multi Specialty hospital at Chennai , besides functioning as the Vice-Chairman of Sri Balaji Vidyapeeth Trust which manages a deemed university in the name and style Sri Balaji Vidyapeeth (Deemed University) . MGM Health Care is a next generation multi-specialty hospital at Chennai and is endowed with 400 beds, 250+ doctors and 30+ departments. MGM Health Care has been established with a view to transforming Health Care vertical by facilitating investment in the new chain of hospitals, besides upgrading the teaching hospitals. This mega venture aims to possess standalone private hospitals in the city of Chennai with 1000 beds by the year 2021 and 2000 beds by the year 2024.
A Chip off the Old Block, Dr. Prashanth Rajagopalan emulates his illustrious father Shri M.K. Rajagopalan, the Founding Chairman and present Chancellor of Sri Balaji Vidyapeeth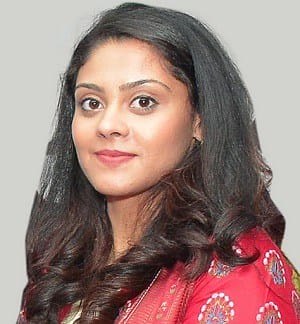 Dr. URJITHA RAJAGOPALAN
TRUSTEE, SBV
Dr.Urjitha Rajagopalan has a medical background with a lot of interest and alacrity on patient satisfaction and safety. She acquired postgraduate degree from the United Kingdom and has given a creditable account of herself, having worked in prestigious medical institutes including Victoria hospitals, Blackpool, United Kingdom. She has been largely instrumental in envisaging services related to holistic delivery of health care through efficient combination of evidence based medicine and ethical practices. This is largely evidenced in the exponential growth of academics in both conventional modes as well as modes facilitated through the academic flexibility.