Student Support Cell Capability Enhancement
Reflection Based Learning Module for Critical Decision Making In Ethical Dilemmas
This program was conducted in Shri Sathya Sai Medical College and Research Institute, Chennai, among second MBBS Students for encouraging critical thinking in ethical decision making. 36 second MBBS students who had attended the conventional didactic lectures on medical law and ethics as required in their second MBBS curriculum and had volunteered to participate were selected for this program.
A workshop on reflective writing and use of guiding questions to write reflections will be conducted for all the participants before they undertake the module. At the beginning of this module the students undertake the Scenario based MCQ Pretest to test their baseline critical decision making skills.
As a part of the learning module the students are first exposed to a common trigger/ experience in the form of a Video or a Case Scenario or a role play relating to common ethical dilemmas.
The Students are then directed to write an Anonymous reflection on the experience usingspecific guiding questions to facilitate critical thinking and decision making. The reflections are collected from thestudents.
Communication Building Program - MGMCRI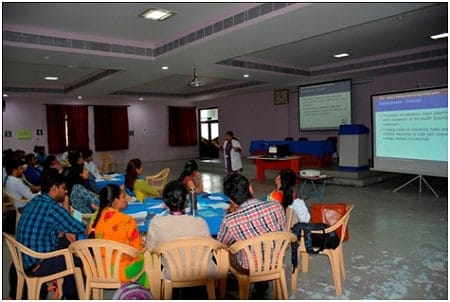 Soft skill development program was organized by medical education unit,MGMCRI on17th to 19th June 2019. The audience was welcomed by Dr. Ravishankar ,Dean he also  explain the scope of the program. Self-introduction was given by all the participants. The Resource person discussed in how soft skills are important for success &the necessity of utilizing soft skills to relate more effectively to other's perspectives and its application to specific situations. The program consisted of lecture sessions  and group exercise like problem based learning, How to do a publication by the resource persons. The hands – on sessions were conducted with some ice breaking Communication skill competitions among students by grouping them into 4 groups and it was very useful and taught the students about how they are important to life and success.
Communication Building Program - KGNC
KGNC organized Communication Building program for I year B.Sc [N] students to improve their language skills and develop good communication skills. 21 classes were scheduled for this year. The program was started on 09.10.2020 for 89 students on different dates. The topics covered for this program are introduction for good communication, Essential skills, Parameters, Positive and Negative communication, Building IPR, Ethics in professional communication, Practicing dialogue in pairs and Listening &interpreting skill. MS. Tamizhkalaiarasi, Assistant Professor deliberated the various topics in planned schedule.
Communication Building Program - AHS
Faculty of Allied Health Science was conducted a program entitled "Communication Building program" for I year B.Sc., AHS (2019-2020) students to improve their communication skills such as listening, writing, understanding and verbalization. The English as a compulsory elective course implemented under Choice based Credit System (CBCS).The program was successfully continued for the third year with modification of 48 credit hours and these lectures were scheduled for weekly 2 hours in academic year. Ms. Tamizhkalaiarasi. K, Tutor in AHS were deliberately taught with the various interested topics in planned scheduled.
Copyright Sensitization Program and Workshop - MGMCRI
First Copyright sensitization program and workshop was conducted for 31 faculties comprising of faculties from pre, para-clinical and clinical departments of Mahatma Gandhi Medical College  for a period of three days from 27tht  to 291h June 2019 in the MEU Hall, college block.
An overview of workshop activities &Developing ideas and concepts for copyright was dealt by Dr.M.Senthil,IGIDS. How to write a copyright proposal was dealt by Dr.Suguna, MGMCRI. And other faculties enlightened the participants on different aspects of copyright.
Presentation of statement of work & Description of the work by 31 participants was conducted and facilitated by Dr.Manohar, IGIDS. Recommendations proposed by the facilitator were incorporated in the participant's works.Submission of copyright filing for MIPTECH was done by all the participants and programme feedback was submitted through online goggle forms. About 38 proposals were extracted from the participants and submitted to vetting committee.
Copyright Sensitization Program and Workshop - SSSMCRI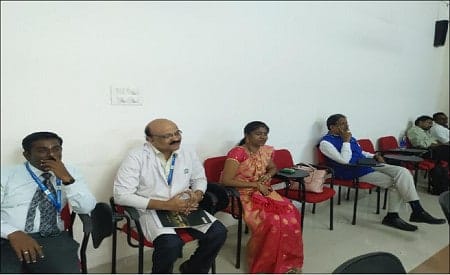 First Copyright sensitization program and workshop was conducted for 21 postgraduates from pre, para-clinical and clinical departments of ShriSathyaSai Medical College & Research Institute for a period of four days on 09th October, 2019, and 17th October 2019 to 19th October 2019. The program is conducted with an objective to sensitize the postgraduate students on Intellectual Property Rights and Copyright preparation. The programme consists of modules which will be delivered over a period of 3 weeks. The programme will be conducted in two batches. Dr.Kalaivani. A, Professor & HOD of Department of Community Medicine is Copyright writing workshop for Postgraduates of pre, para-clinical and clinical departmentsof SSSMCRI on behalf of Intellectual Property Cell, SBV.  The programme module includes copyright sensitization programme followed by hands on training workshop for three days on copyright writing and submission to MIPTEC vetting committee. The participants will be provided with resource materials like  power point presentation for aiding them to convert their innovative ideas into copyright for submission to Government of India.
Copyright Sensitization Program and Workshop - KGNC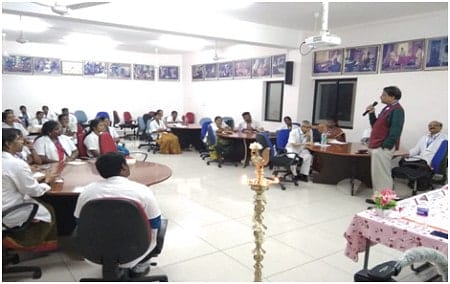 The programme started with SBV anthem by 9.00 am. A warm welcome was given by Prof. Dr. Renuka K, Principal, KGNC & Chairperson – SBV Committee for Filing Copyright, followed by Lighting of Kuthuvilakku by the dignitaries, and Hon'ble Vice-Chancellor's Address by Prof. S.C. Parija, SBV. Prof. A. R. Srinivasan, Registrar, SBV, deliberated on "An Overview of Sensitization Programme". The Faculty and the PG Students had given self-Introduction. Resource personsdelebrated about various topics regarding copyright process.
Then the Group Exercise – Sharing Ideas and Concepts for Copyright filing session was led by the facilitators of 5 Participants from each group (5 groups – 5 in each). The participants shared 5 ideas of each from 5 groups to Prof. Dr. Renuka K, Principal, KGNC& Chairperson – SBV Committee for Filing Copyright. The programme came to an end at 5 p.m. with Vote of thanks, by Mr. Surender S.R., Tutor, KGNC and National anthem.
Copyright Sensitization Program and Workshop - IGIDS
The copyright sensitization program at IGIDS was inaugurated by Honourable Vice Chancellor, Prof. S.C. Parija on 29.04. l 9. All faculties of IGIDS participated in the sensitization program as well as on the three day workshop conducted between 06.05.19 and 08.05.19.
SBV Committee for Filing Copyright & IGIDS organized a Sensitization Programme on Copyright Process on 29.04.19 between 9 a.m.to 5 p.m, at 7th  floor conference room, IGIDS Puducherry, The programme started with SBV anthem by 9.00 am. A warm welcome was given by Prof. Saravanakumar, Principal, IGIDS, followed by Lighting of Kuthuvilakku by the dignitaries. and address by Prof. S.C. Parija, Vice-Chancellor, SBV. Prof. A.1.Srinivasan Registrar, SBV, deliberated on "An Overview of Sensitization Programme".
The Faculty members self-introduced themselves. Dr. M. ScnthiL Head, Dept of Public Health Dentistry, Discussed "Overview of the intellectual Property Rights (IPR)". This was followed by the sessions by other resource persons. Afternoon the last session had a group work.
Yogabhyasa - A Step Towards Salutogenesis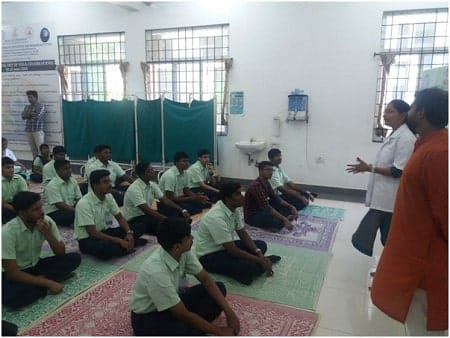 "Yogabhyasa – a step towards salutogenesis" is the second consecutive year that CYTER has been able to complete the program. Yogabhyasa program was initiated with the valuable suggestion from Hon VC Prof. SC Parija since 20th September 2018. He brought this into existence with a framed structure for the Medical students. The program consists of introduction to Yoga and Yoga Therapy techniques that needs the students to participate in all the sessions. The program is a structured and organized with specific objectives so that the students and the facilitators may be able to understand the effect of the Yoga.
CYTER team led by Dr AnandaBalayogiBhavanani, Director and Dr Meena Ramanathan, Deputy Director gives an introduction to Yoga and Yoga Therapy for all students of Health ProfessionsEducation (HPE) during their orientation programs conducted by the respective faculty of our esteemed university. Introduction about AYUSH and Common Yoga Protocol techniques were taught to the students as well as Yoga awareness program was conducted for medical students at Sri Balaji Vidyapeeth from 10th August 2019 onwards.
It was decided that the 250 first MBBS students would be divided into 5 batches of 50 students each. Each batch of 50 students participated in one yoga session every week, conducted by the yoga instructors of CYTER between 4.30 and 5.30 every evening at the College block. This training program was held throughout the academic year. Student Evaluation will be done before and after the program to see the changes in understanding the practical& theoretical aspects on Yoga & Yoga therapy.
Overall feedback obtained from them and analyzed showed 83% of people liked the content of the course.77%of people like to have future programme like this. 36 % of people wants to improve the number of session. Overall feedback was excellent and they feel energetic and stress free after the sessions.
Music for wellness – A salutogenic focus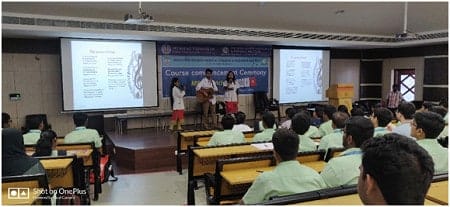 The CMTER team comprising of Ms.Bhuvaneswari Ramesh, Ms.Priyankasingh, Mr.Saurav Manna and Ms.JenitaCaren in collaboration with the Department of Physiology, MGMCRI conducted a structured music therapy program "MEETS" to the fresh medical entrants of Mahatma Gandhi Medical College with a goal to improve their focus of attention, motivation and self-esteem levels and evaluate their learning attitude. 228 I year MBBS students participated in the program. The music therapy activities conducted by the faculty of CMTER included 1) Rhythmic Improvisation with musical instruments to enhances focus of attention and concentration. 2) Song writing & group singing to improve self-expression, socialization, coordination and team work. 3) Relaxation training with music to restore calmness and balance.
Apart from the regular staff we had a new appointee Mr. Stephen Sathiamoorthy, music therapist and an alumnus of Center for Music Therapy Education Research, conducted the MEETS program as induction for first year MBBS students at Sri SathyaSai medical college, Sri BalajiVidyapeeth, Chennai
The Overall Feedback received were that 95 % liked the session very much, 84% felt the content very useful, around 84% of them expressed interest in  similar sessions for the future.
Capability Enhancement Programs Music for Wellness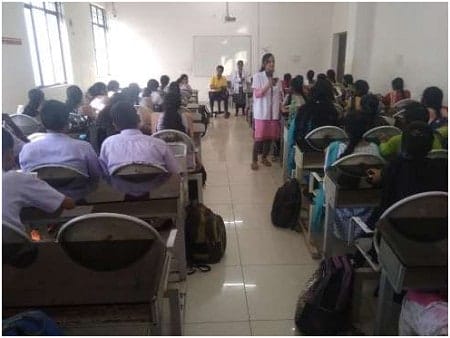 Center for Music Therapy Education and Research faculty, Ms. Bhuvaneswari Rameshand students as part of  capability enhancement programmeconducted the music for wellness program for the first year Indira Gandhi institute of dental sciences students. Session conducted were the Introduction to music and its use for  health and well-being. The students were given a brief introduction about music therapy after which there were interactive and experiential sessions who participated in the musical activities.
The students were very much engaged in the music for wellness program. The feedback analyzed gave us the following details. 92% liked the session very much & 98% wished to have similar sessions in future. Regarding the impact of the session, 89% felt it improves communication, felt it helps to develop self-expression 84% improve attention & focus, whereas 99% gave feedback that it relieved their stress.
Eye Donation Fortnight Events 2019
In view of the "Eye donation fortnight "which falls between the 25th of August and 8th of September 2019,the department of Opthamology,SSMCRI organized a series of events aimed at increases in the awareness of corneal blindness and the importance of eye donation.  Public health lecture – will be delivered by the chief of the SankaraNetralaya Eye bank – MrHariBabu, on the importance of eye donation. There will also be awareness messages given by the faculty of ophthalmology on ocular diseases like cataract and glaucoma. MrHariBabu will also address in house staff on how to counsel a patient's attender for eye donation.
Blinddate– A fun activity to expose and explain the world of the blind. All the events of the fortnight were successfully conducted in a grand manner with the blessings of the management and hospital authorities.The students, PGS and CRRIs participated in large numbers and showed enthusiasm to make this fortnight a memorable one.